Dell Studio Hybrid mini desktop PC
Curvy, slim and sexy
For comparison, Dell's Core 2 Duo-based Latitude E6400 scored a Vista Experience Rating of 3.8, derived from CPU, memory, desktop graphics, 3D graphics and HDD scores of 5.2, 5.9, 4.1, 3.8 and 5.2, respectively. So laptop components mean laptop performance, but unless you're looking for a serious power system, that's unlikely to be a problem - the Studio Hybrid has sufficient horsepower for mainstream tasks.
The PCMark05 results below show how the Studio Hybrid compares with Dell's Centrino 2-based E6400. The Latitude's CPU is clocked just 13 per cent higher than the Studio Hybrid's but the latest Core 2 Duo architecture makes a difference too, and the laptop shows better performance than the laptop-based desktop across the board. It's also beaten - by a lesser margin - by the earlier-generation 2GHz Core 2 Duo in the Acer Aspire 2920 we tested earlier this year
PCMark05 Results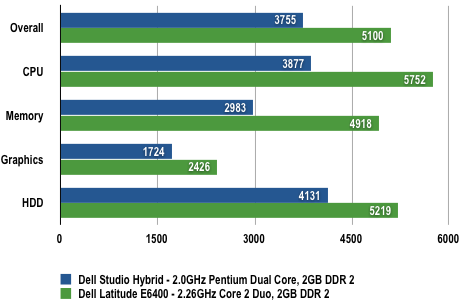 Longer bars are better
Mind you, look back at our review of Asus' N10 laptop, which although it too runs Vista is based on a 1.6GHz Atom processor, and you'll see the Studio Hybrid soundly thrashes it - and, indeed, the similarly sized but also Atom based Eee Box.
The Eee Box can be picked up for around £200. The reviewed Dell retails for around £379, while the reviewed E6400 costs £860. You pays your money, you takes your choice on performance.
3DMark06 Results

Tested at 1024 x 768
Longer bars are better
Incidentally, while PCMark05 and 3DMark06 were doing their stuff and thrashing the CPU, memory and hard drive, the Studio Hybrid remained nice and quiet. Yes, the fan was going, but with more of a blow than a roar. We don't see this one interrupting anyone's viewing if they stick it next to their telly as a media centre. The unit itself didn't feel particularly warm, either.
You'll see from the 3DMark06 score that the Studio Hybrid's Intel GMA 3100 GPU core, built into the 965GM chipset, isn't exactly a graphics powerhouse. Unfortunately, you're stuck with it. While Dell offers a range of processors to pick from, the better to balance price and performance, the Intel GMA 3100 is the only graphics option.
Sponsored: Minds Mastering Machines - Call for papers now open