Geek Wheels touted as the ultimate tech scooter
Mo' 'ped
Take one Yamaha Vino scooter and enough gadgets to make Amazon's shipping warehouse look bleak, and what do you get? The Geek Wheels techno-scooter.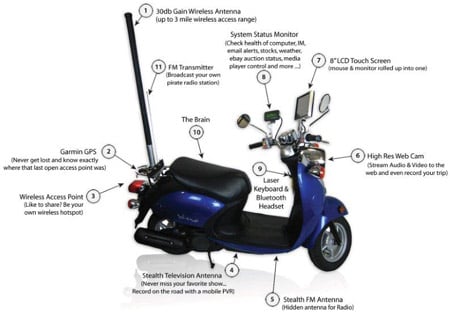 Thought Lab's Geek Wheels techno-scooter
Geek Wheels boasts just about everything you'd need for a long- or short-haul journey. Underneath the seat rests the scooter's processing "brain", which consists of a 1.2GHz VIA CPU and 1GB of memory. It also has a 2GB SSD for the OS and other software.
Just next to the wing mirror is an 8in LCD touchscreen which will display TV picked up by the scooter's on-board "stealth" TV antenna. Since you mustn't watch and drive, the scooter's been fitted with a DVR.
Many people miss the delights of watching bugs get splattered on the windscreen, but you won't with Geek Wheels because a webcam's been integrated into its body just below the headlight.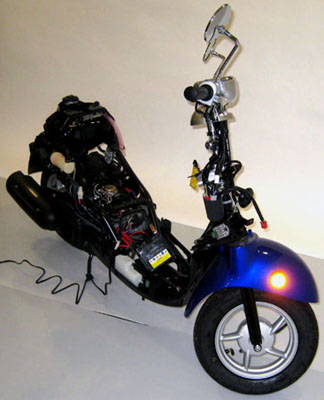 No space for your helmet though...
Geek Wheels may be well equipped, but it's also well connected. A wireless antenna with a three-mile access radius sticks like a flagpole from the scooter's backseat, there's an FM transmitter on-board and even a wireless access point. GPS has been fitted too.
A dedicated screen gives you access to a system-status monitor, letting you keep an eye on the scooter's techno health. Although, you'll have to rely on its old fashioned gauges for petrol and speed information.
Unfortunately, Geek Wheels was constructed by tech specialist Thought Lab. So if you want one, you'll have to commission it to make another version for you.
Sponsored: Minds Mastering Machines - Call for papers now open