Fujitsu boffins build 'god-view' cam rig for drivers
Third-person perspective motoring
Fujitsu has come up with a system that will give motorists a full 360° view around their car, from an almost god-like perspective.
The Fujitsu rig is based on four vehicle-mounted cameras and clever software that stitches the images together into a third-person perspective-like view that allows the driver, it's claimed, "view any perspective and any sightline on the vehicle's periphery".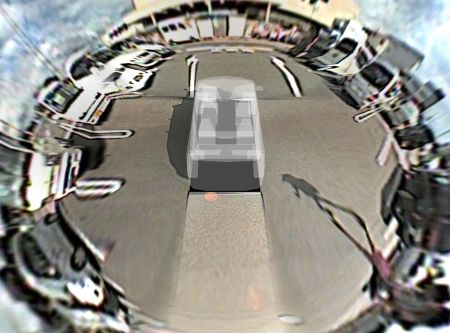 Fujitsu's Omni-View: see what's happening around you
The company's pitch is that such an "omni-view" system allows the driver to see instantly any hazards that may affect the maneouvre he or she is about to make - park, reverse, change lanes, overtake and so on.

Handy for reversing out of a parking space?
Unlike today's array of rearview and side-mounted mirrors, and blind-spot checks, the driver can see all he or she needs to see with one glance, not three or four.
Existing camera-based visual aids provide a single view which can be hard for the drive to interpret in relation to his or her own view out of the windscreen of the car.

Kerb your enthusiasm
Couple that with image recognition technology and you also have a system capable of pointing out hazards the driver may not have noticed.
Fujitsu didn't say how the driver manipulates his or her virtual vantage point, though it claimed moving from one to another is done smoothly and quickly so there's no sudden change of image, something that could disorient the driver.
It's early days yet for the technology, and more work needs to be done to turn it into a system that could be built into a car. Fujitsu's focus, for instance, is on the process of taking those four images from the car-mounted cameras and turning them into a 3D image, rather than the driver interaction mechanism.
Sponsored: Minds Mastering Machines - Call for papers now open