Philips Aurea II 42PFL9903H 42in LCD TV
A stunning screen that brings truly trance-inducing experience
Although the Philips LCD can't match the blacks of plasma, the light frame has another trick: by surrounding the screen with light it makes the dark greys look blacker, seeming to add to the image contrast. The rest of the design is less controversial: the curvy edges at every corner, the white glass stand and so on are more demure. There are no visible speakers - like earlier Philips screens the sound is pushed forward as though from a horn by the external clear plastic shroud round the light frame.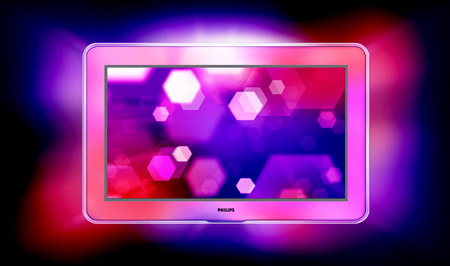 How Philips sees the Aurea projecting forth out of your TV...
It's a discreet but effective system. Of course, there are menus to tweak the sound and picture to your preference. The remote leads you to Smart settings... but a word or two about the remote. Sleek, as we said, and oddly pleasant to the touch despite its rough underside and smooth top, thanks to buttons that are well-spaced and easy to use.
But there's a problem: the circular ring round the OK button. You can move through menus by pressing at the four compass points or you can rotate the ring. But the ring moves in such a slippery manner that it's nearly impossible to get it to stop where you want it to.
This was a problem on the last Philips Aurea remote and it's no better here. Shame, as it's otherwise a cool controller. Anyway, Smart settings offer you the simplest way of adjusting the way the screen looks. Vivid, unsurprisingly, is brighter than Standard, and you can see the frame effects beef up as you change. Energy Saving dims the frame almost completely, and if you switch to Game, it lights up again like crazy.
There are more detailed ways to fiddle with the image and sound settings, but Smart settings are maybe all you need. As a general rule, less is more. The Philips processing technologies are strong and effective, but can ruin a picture as well as improve it. Smart settings let you dabble without leaving you wondering if you should have changed the colour temperature just one bit more.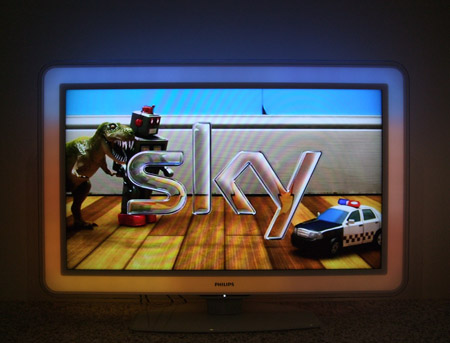 ...and how it looks in reality, which is actually really rather good
The Aurea is well-connected, with three HDMI sockets at the back plus a fourth at the side for a camcorder or games machine, say. There's a USB socket and an Ethernet jack as well as the predictable Common Interface slot component-video, composite-video and a couple of Scarts.
Sponsored: Minds Mastering Machines - Call for papers now open