Warrington first to get Virgin Media 50Mb/s
Free two-month trial for 200 punters
Virgin Media has invited 200 customers in Warrington in Cheshire to be the first to try its forthcoming 50Mb/s broadband package at no extra cost for two months.
The cable firm has upgraded its network to support the DOCSIS3 standard. The rollout has recently been cited by regulators and politicos as evidence of the UK's preparedness for increasing bandwidth demands.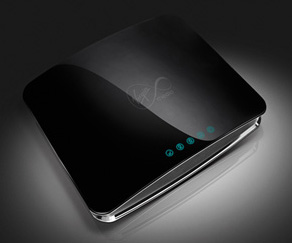 Following customer testing in Warrington, the "XXL" package will be gradually added to the firm's 2Mb/s ("M"), 10Mb/s ("L") and 20Mb/s ("XL") offerings across its whole cable network, finishing mid-2009.
In its invitations to those selected to trial the new service, seen by El Reg, Virgin Media said Warrington had been chosen because of a high proportion of subscribers to its faster existing services.
One of the national cable network's three "head-end" nodes is down the road from Warrington at Knowsley. The north west served as the test bed for new products under Telewest, a pattern that has continued since it merged with NTL to form Virgin Media in 2006.
Customers who take up the offer by November 18 will be sent a new modem (pictured) "in a few weeks time". In exchange for the free upgrade they'll be asked to fill out questionnaires.
Details of pricing and bandwidth throttling plans for the XXL package once commercially available remain under wraps. Currently, XL customers pay £36 per month and can download 3GB at peak time for five hours each day before they are slowed to 5Mb/s.
BT's delayed 21CN upgrade to an all-IP backbone is still ongoing. It'll allow theoretical downstream speeds of up to 24Mb/s, although real-world service is more likely to be around 10Mb/s. It also has piecemeal pilots of fibre to the cabinet (up to 40Mb/s) and fibre to the home (up to 100Mb/s) underway. ®
Sponsored: Learn how to transform your data into a strategic asset for your business by using the cloud to accelerate innovation with NetApp