Samsung ML-1630W wireless network mono laser printer
A great-looking printer that's quick and quiet
As we mentioned, the machine uses a combined drum and toner cartridge and this is the only consumable. The cheapest source we could find was just over £55 including VAT, for a cost per page of 2.80p.
This is quite a bit for a mono laser page, where even competitors in the same price range average out closer to 2.1p - equivalent to a £42 cartridge. There's a trade off, of course, between the asking price for the printer and its running costs – the more you pay up front, the cheaper it is to keep running.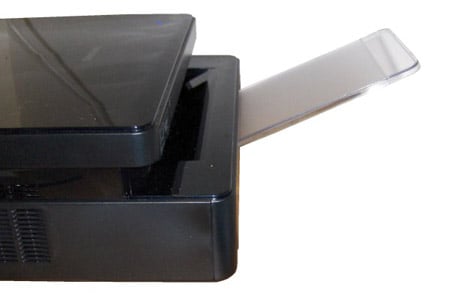 Fit this, or your prints end up on the floor
Samsung claims a good noise figure of 45dBA for this laser, thanks to its "NoNois" [sic] technology – basically a consequence of the engine design. We measured our sample at peaks of 54dBA at 50cm away, which is louder than that, but still quieter than a lot of its rivals, which often peak at over 60dBA.
Verdict
Samsung has succeeded in producing a better-looking laser printer than most. The print quality's good, it prints reasonably quickly and quietly and is easy to maintain. However, the page cost is high and its paper tray capacity is low, so it's best for those whose printing needs are modest, but who like shiny stuff.

Samsung ML-1630W wireless network mono laser printer
A good-looking, shiny black networkable laser for those who want to bring their printer out of the back room.