Samsung ML-1630W wireless network mono laser printer
A great-looking printer that's quick and quiet
Once set up, the printer driver is well equipped, offering up to 16 pages per sheet, watermarks and overlays and manual duplex, by printing odd pages and even pages separately. There's no automatic duplex option and no extra paper tray. In fact, there is nothing you can add to it, but it does come with a pale blue polishing cloth, so you can keep the piano black in Steinway glossinesss. Bless.
Samsung printer comes closer to its published print speed than many printer makers' offerings do. It claims the ML-1630W churns pages out at a rate of 16 per minute, and we printed a 20-page text print in one minute 33 seconds - 12.9ppm. That time is for a click-to-drop test - from clicking OK in the Print dialog to the last page dropping into the output tray, so includes processing time. A 6 x 4in photo on an A4 page took a very commendable 15 seconds to appear.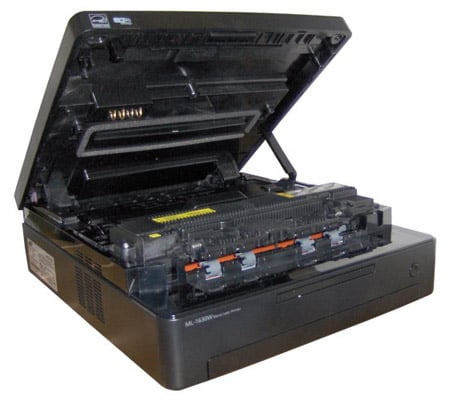 The cartridge is easy to replace
You may not often want to print photos on a monochrome laser, but many documents now have greyscale elements, so it's good the extra processing time doesn't slow this printer down by much.
Print quality is generally very good. Black text is jet-black and crisp, with little sign of any toner spatter. Greyscale graphics, derived from colour documents, show no banding and have a wide range of shades, so you lose none of the differential between colours, even at the printer's default 600dpi resolution. The maximum resolution is 1200 x 600dpi, though this is achieved by interpolation.
Our photo print showed that for most purposes, there's not a lot of difference between the two resolutions. The print was well reproduced in both modes and, although there's some slight micro-banding in areas of solid fill, this is less than often seen in lasers at this price.