Samsung ML-1630W wireless network mono laser printer
A great-looking printer that's quick and quiet
The only physical buttons on the ML-1630W are there to release the spring-loaded paper tray and to open its top cover. The tray takes up to 100 sheets of 75gsm paper, fewer than that of typical 80gsm office laser paper. This isn't much, even for use in a printer aimed at the home – many inkjets take more than this.
Unless you want printed pages ending up on the desk or floor, you'll need to clip in the transparent plastic paper support at the front of the printer, which to an extent spoils its lines and is conspicuously absent from any of Samsung's product shots.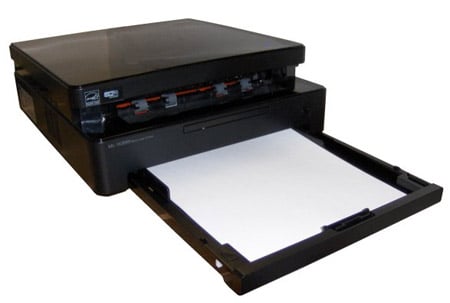 The tray takes fewer than 100 sheets, so refill frequently
Lift the shiny lid and you have a very low-profile laser engine which uses an integrated drum and toner cartridge good for 2000 pages. This is a fair yield for this class of printer, and the flat-and-low design of the mechanism means the cartridge 'sits in' from the top, rather than having to slot in from the front, which is more fiddly.
Emphasising the possibilities of moving the printer physically away from the computer, Samsung has built 802.11b/g Wi-Fi into it, as well as standard Ethernet and USB 2.0 connections. This is unusual in a mono laser printer at this price point, where you normally consider yourself lucky to get a single USB port.
Setting up the wireless isn't nearly as easy as it should be. Given that the printer is aimed at the home, where dedicated sysadmins are rarely in evidence, having a network and wireless setup involving IP addresses, MAC addresses and WEP/WPA codes is daunting and is bettered by rivals like Canon and Lexmark, who build the whole thing into a simplified installation. These wireless printers may require brief USB connection while setting up, but this is preferable to the messy process Samsung puts you through.