Shure SE102 sound-isolating earphones
Shure quality without breaking the bank
Our preferred in-the-ear 'phone sleeves are of the foam variety as these tend to conform to your ear canal better than other ones do, making for a more comfortable fit. Shure provides four sets of dome-shaped silicone buds of various sizes. These aren't quite as comfortable, and if you're the type of person that is constantly pulling earphones in and out, they'll soon start to irritate.
Comfort aside, these sleeves are just as good as the foam variety when it comes to sealing out noise. By blocking so much noise out, you can also listen to the music at a lesser volume and still make out the subtleties.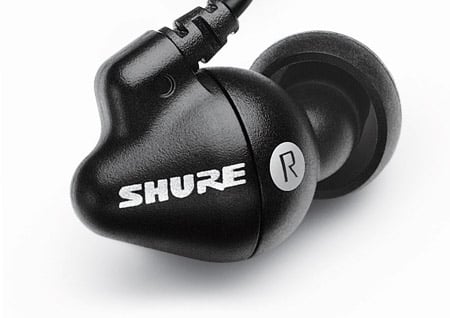 Not much sound leaks out
Equally, the drivers are considerably smaller than traditional in-ear 'phones, so much less noise leaks out. Unlike the iPod owner sitting next to you on the train, blaring out Cradle of Filth through his trademark white earbuds, nobody is any the wiser that you are even listening to music, let alone what poor taste you have.
The 'phones themselves only have an 45cm cable, with the rest of the length being provided by a 90cm extension cord with gold-plated connectors. The cable end is cut away so it fits into a first-generation iPhone. If you're rather clumsy and damage the ends, you can replace the chord instead of the earphones. It also gives you flexibility of buying one of Shure's microphone units for using these with a mobile phone, which saves you constantly having to pull them out of your ears to answer a call.
Shure's two-year warranty is also a good indication of quality, as well as a good fall-back if you happen to work with anyone who uses scissors regularly. Shure bundles a felt bag for carrying the 'phones in, which should protect them from getting snagged if you throw them in a rucksack, or from collecting dirt if they're in your pocket.
Sponsored: Minds Mastering Machines - Call for papers now open