Shure SE102 sound-isolating earphones
Shure quality without breaking the bank
Review Using cheap earphones on your expensive MP3 player is as pointless as spending all your money on a triple SLI graphics set-up and using a 14in CRT to watch it all on.
You can argue that to enjoy music, you just need to be able to hear it – and the number of people still using the standard earphones that came with their iPods is testament to this very fact. But it doesn't take much of an investment to gain a significantly better sound.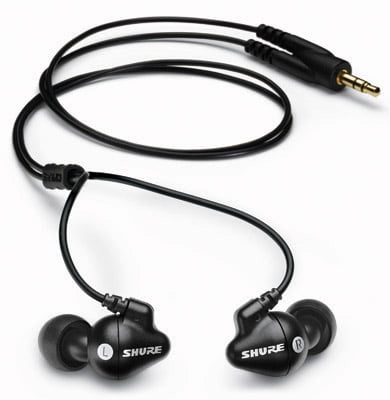 Shure's SE102: blocks out 90 per cent of outside noise
Shure is a name that is well known in the recording industry, with the SM58 and SM57 microphones being practically the industry standard for vocal and instrument recording. Shure broke into the consumer earphone biz a couple of years back and has been doing pretty well for itself against some stiff competition.
The £40 SE102s are the latest attempt to re-kindle its product line-up. This price is the value-for-money sweetspot beyond which extra cash starts to show diminishing returns.
Much like the rest of the Shure range, the SE102s are "sound isolating". This is no fancy wave-cancellation technology, but instead involves getting so deep inside your ear canal that no other sound can penetrate. Apparently, this blocks out over 90 per cent of the noise around you, and from our experience, we're inclined to agree.
Sponsored: Minds Mastering Machines - Call for papers now open