Carbon Fibre MacBook Air to waft in soon?
Aluminium alternative?
Apple's next MacBook Air may be made out of carbon fibre, sources close to the company have claimed.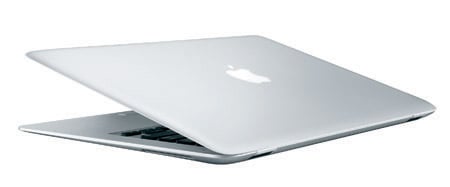 Apple's MacBook Air: aluminium base today, carbon fibre tomorrow
If Apple gives an Air overhaul the go-ahead, the machine's "lower aluminium case, or bottom cover" would be replace with carbon fibre, according to an Apple Insider report citing sources familiar with Apple's Air R&D efforts.
The MacBook Air - updated only last month - currently weighs in at around 1360g, but replacing the bottom cover with carbon fibre could see the machine's weight drop to around 1263g - a 'massive' seven per cent reduction.
Although not a huge weight difference, use of ultra-tough carbon fibre could give the Air more standing in the durability stakes.
Air's aluminium shell is made from a single block of aluminium, which Apple's dubbed the "unibody" enclosure. Previous MacBook models used an internal skeleton to hold the body together, but Apple's claimed that the unibody design makes Air's shell stronger and more robust.
The R&D source apparently also stated that a pre-production model – which has already been produced – looked almost identical to the existing Air, except for the black carbon fibre bottom.
Development of a carbon-fibre MacBook Air isn't that unreasonable because a carbon fibre Vaio laptop is already available from Sony. Several mobile phone manufacturers have also already developed handsets with carbon fibre bodies, including Nokia's 8800 Arte and LG's Secret.
COMMENTS
Sorry, slight mis-quote there
I said you said Iphone. You didn't. My point in general still stands about not using carbon fibre purely for a cosmetic reason, but I kinda ruined it by talking bollocks ever so slightly!
"Pure cosmetic"....
Very, very unlikely Matt. Carbon fibre is an expensive material and to add it simply for cosmetic purposes without any structural integrity benefits would be insane. It'd make the Iphone even more expensive!
Aluminium components wrapped in carbon fibre are common place on road bikes and is a technique used to vastly reduce the amount of metal around stems and bars, giving back greater structural rigidity and longevity for less weight than all metal. And less cost than ALL carbon fibre.
The carbon fibre on the back of the Iphone is likely to be a means by which to remove as much weight as possible to counter the glass on the front, whilst keeping a piece of the phone rigid enough to stop the user bending it and protect the internals.
Carbon fibre for the sake of it on a 'standard edition' iteration of a device is highly unlikely. It'll be there for a purpose.
carbon LG secret??
hmmm.. not quite... the carbon panel on the back of the phone may be carbon fibre, but its laid on a metal backing, rendering its addition as purely cosmetic...
Carbon Mac??? they have done that before... The old Ti Powerbooks have a Titanium body attatched to a carbon frame whic is one thing i was sorry to loose when I upgraded... although thier poor paint process and low quality carbon fiber is not something i missed!