Polaroid PoGo handheld colour printer
Instant (almost) snaps from your digicam or phone
PictBridge connection is straightforward using the cable provided with the camera and selecting images the camera's LCD display. Polaroid says the PoGo will print in under a minute – we saw timed it at just over a minute, but we're not going to quibble. This seems quick, until you remember that PoGo prints are a quarter of the size of 6 x 4 prints from a typical small-format photo printer. Most of these printers can manage the larger print in around two minutes, so they're effectively twice as fast.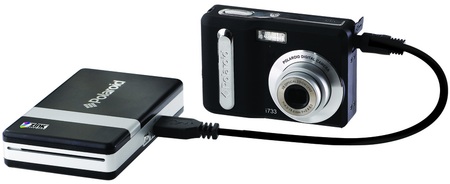 Connects to any PictBridge camera...
The second way of connecting the Pogo printer – and, we suspect, the one more likely to be used – is over Bluetooth from a mobile phone. Doing a Bluetooth search using our handset showed the Polaroid printer immediately and the two were paired in a matter of moments. Printing wirelessly took just a few seconds longer than through PictBridge.
So how does it work? Zink paper technology is the basis for this printer. It's a multi-coated paper, using three different layers of dye crystals sandwiched under a polymer overcoat. The crystals appear colourless until activated by short pulses of heat from the printer's thermal print head. By controlling the length and intensity of the pulses, the print head can activate the cyan, magenta and yellow dyes independently, so creating an almost unlimited range of different hues.
This technique means the paper only needs to make a single pass through the printer for full-colour printing and that all the users needs to do is keep buying more paper.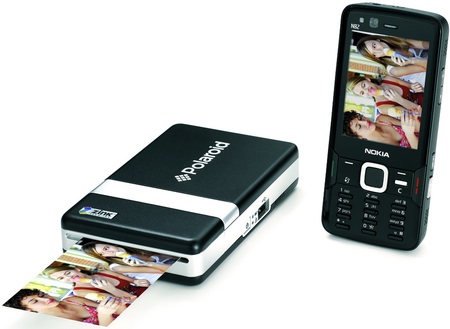 ...or by Bluetooth to phones
It's really the quality of the prints which currently lets the system down. Instead of the precision you get with modern inkjet and dye-sublimation photo printers, PoGo prints are grainy and fine detail looks blotchy and a bit like the early days of home colour printing. While the print's small size means we wouldn't expect to be able to see the same fine detail as in a 5 x 7 or even a 6 x 4 print, even quite large elements can appear indistinct and distended.
Sponsored: Minds Mastering Machines - Call for papers now open