Nissan to debut anti-prang tech next week
Collision Damage Waivers a thing of the past?
Nissan will next week show of a prototype car capable of automatically avoiding collisions.
The system uses an array of sensors around the vehicle that detect objects the car could collide with. Something in the way? Then the motor's on-board computer activates any or all of the four brakes to prevent prangs.

Nissan's AACF: electric eye
Nissan said the prototype "All-Around Collision-Free" vehicle guard against blind-spot collisions, banging into another car when you're backing out of a parking space and inadvertent lane changing.
However, avoiding accidental lane changes involves tracking the car's movement against lane markers - Nissan didn't say whether the system uses regular road markings or requires special beacons to be put down. Either way, drift too far over and an alarm will sound. Keep going, and the braking system will edge you back.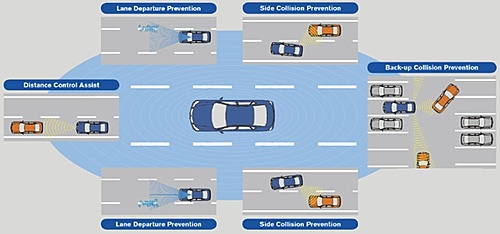 Distance, lane-discipline mandated
Nissan's AACF system will also prevent you getting too close to the car in front, by moving "the accelerator pedal up against the driver's foot" if the gas pedal is being pushed, or by engaging the brakes if cruise control has been activated.
AACF is essentially the same technology that Ford plans to build into a number of car models next year and has already brought to market this year as the Volvo XC60's "City Safety" system.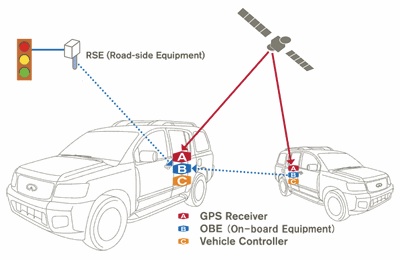 Real-time feedback
City Safety is designed to prevent prangs when you're in slow-moving traffic, ideally moving at less than 20mph. So too is the system installed in Honda's CR-V, and Mercedes' Distronic technology.
Nissan's system extends beyond radar to real-time communcations between vehicles and the road infrastructure. One detector scans for traffic lights and, on the basis of what colour it sees and how long the light shines for, warns the driver to slow down to avoid a signal violation.
The car's own data is pinged out to other vehicles, allowing them to warn their drivers that some fool's about to run a red light at the crossing they're approaching, auto-braking if necessary. Similarly, the system will warn you if an attempt to cross a lane - you're turning right, for instance - will put you in front of a rapidly approach motor you might not have seen.
Sponsored: Minds Mastering Machines - Call for papers now open