BudBuds, for best buds only
Totally bizzare
Music brings people together, it's claimed. So what better way to share music with your closest buddy than a pair of earphones fitted with two extra earbuds.
On the back of each BudBud earphone is a second earbud which rests in a small support bracket until it's needed, giving you four earbuds in total. So when your bud says: "Hey bud, can I listen to your music?", you can respond with, "Sure thing bud, just grab holds of my extra buds."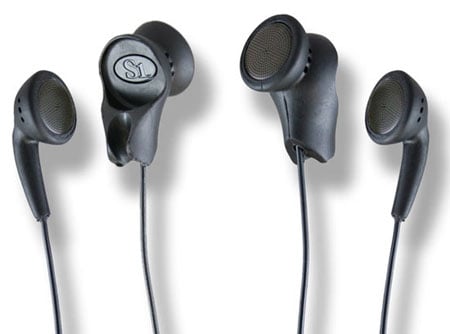 BudBuds: share music with your buddy
The disadvantage is that when you're alone the headphones will make it look as though you've got an earbud poking out of your ear.
All four buds connect into a control pod, from which a single 3.5mm jack cable emanates. Each earbud has a 13mm "full-dynamic range" driver, S1 said, and a frequency range of between 20Hz and 20kHz.
Alas, we haven't heard of a launch date or price for S1's BudBuds yet.
COMMENTS
Or, for less than a quid...
...just buy and carry a 3.5mm to 2x3.5mm jack headphone splitter adapter and tell 'em to plug their 'phones in.
Rather that than this daft suggestion of a product.
Copywrite Law
Wouldn't this mean you'd break the copywrite - by putting on a public performance?
You would have to check you buddy had purchased there own copy prior to sharing you buddy buds.
Nice idea
Quite a nice idea I think and potentially useful for any mobile/silent disco attendees.. (do those things still happen? Haven't heard of any for a while)