Hauppauge myTV Pocket Freeview PMP
Media player with built-in digital telly tuner
At some point, Hauppauge must have planned on shipping the myTV with a cable with a mini USB connector on one end and a full-size USB slot on the other because it was blanked out on the list of package contents that came with our review device.
Reading files from SD cards proved to be basic but reliable. The menu just shows the files and folders present. It's worth noting that you have to access the card from the correct main menu setting – movie, music or photo – in order for the player to recognise the relevant file types. Pop a card in with a mixture of AVI video, MP3 audio and JPEG image files and open the card via the movie view and all you'll be able to see are the AVI files. To play the MP3 files you need to navigate back to the main menu and click on the music icon.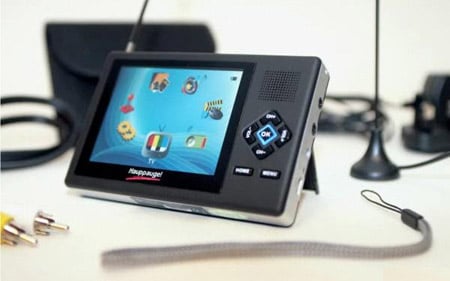 Navigation around the myTV player is simplicity itself
File support can best be described as adequate. The myTV runs to MP3 and WAV audio files; JPEG image files; and MPEG 1, 2 and 4/ISO, MP4, DivX 4/5, and XviD, but no further. Frankly, we think it would have been worth Hauppauge's while to have included support for both WMV and H.264 video, and Flac audio.
The video player handles .SRT subtitle files, though, and while ID3 audio file tags are supported, album art is not.
Hauppauge doesn't appear to supply any earphones. We don't think this is such a big deal as bundled phones are usually hopeless and, more to the point, the two speakers – one on the front, one on the left side – produce a very fine sound indeed. So long as you're in a tolerably quiet environment, the Hauppauge is quite usable without headphones. If you need 'em, there's a 3.5mm socket.
Sponsored: Minds Mastering Machines - Call for papers now open