LG Renoir eight-megapixel cameraphone
Serious alternative to the you-know-what
The Renoir's upmarket imaging capabilities extend to video capture. The phone can shoot at up to 640 x 480 (VGA) at 30f/s for smooth-playing, good quality mobile footage. Like the Viewty, it can shoot in slow-mo, capturing at 120f/s, but only at 320 x 240.
Time-lapse video can be taken too, with a 5f/s setting for capturing slow-moving subjects or scenes - like sunsets. You can edit videos or upload them straight to YouTube from the handset.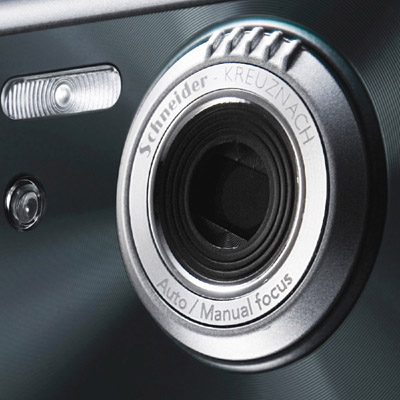 Serious snappers will appreciate ISO adjustment
With such decent-sized screen, video is very watchable. You can transfer video content from a PC or memory card, or download content over the air using HSDPA or Wi-Fi.
The music player is well set up for good quality tune playing. Its user interface is intuitive and easy to operate. Tracks are listed in familiar music player categories, and cover art is supported – though not in any way as slickly as it is on the iPhone. Using Dolby Mobile audio processing technology for the first time – you tap onscreen to engage it – the music player sounds top class. You get a decent hefty bass presence and a rich depth of sound that's very satisfying to the ears.
LG hasn't quite sealed the deal - the supplied earphones are fine, if not exceptional but, although the two-piece set has a standard 3.5mm headphone socket mid-way to fit your own ear-gear, it uses a side-mounted proprietary charger/USB/earphone connector which is just awkward. The connector arrangement also means you can't listen while charging. You can also use stereo Bluetooth earphones, or the loudspeaker option – though the earphone lead has to be connected if you're tuning into the nifty FM radio.
The Renoir boasts A-GPS, though our review sample didn't have any dedicated satnav software on board. The phone does come with Google Maps which provides a way to find your precise location, do local searches for places of interest and other amenities, and plan routes. You can also view satellite images.
The A-GPS on our sample was quick to get a satellite fix, taking less than a minute, and held on well when moving. The A-GPS technology can also be used to geotag your camera shots with location data, so where they were shot can be shown on a map, either on the phone or when uploaded to a suitable online service.
Sponsored: Minds Mastering Machines - Call for papers now open