LG Renoir eight-megapixel cameraphone
Serious alternative to the you-know-what
Camerawork is where the LG Renoir really breaks new ground for a touchscreen phone. Its eight-megapixel camera has a dazzling array of shooting options for a mobile phone.
The autofocus system is enhanced by touch-controlled focusing – you simply tap the part of the picture you want to focus on, take your finger off and the shot is taken. It's simple, but very effective.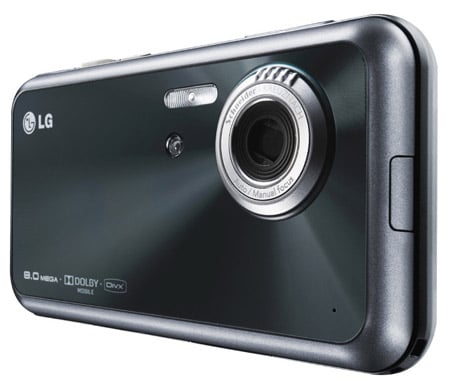 The camera is enhanced by touch-controlled focusing
Other aids for improving shots include automatic face tracking, smile detection, a "beauty shot" option which auto-airbrushes away spots and other blemishes in portraits, and blink detection. These all work surprisingly well, if you need them.
Flip open the lens cover, and you're away. Although the touch interface is extensive, it's not particularly difficult to us. Some day-to-day features – including flash, shot mode and exposure control - are lined up on one side of the screen, while more detailed settings options are accessible by tapping another settings button. You can use the digital zoom by dragging an on-screen slider, though in practice it's easier to use the zoom rocker.
Serious photographers will appreciate controls like ISO adjustment, from 100 to 1600. There's the usual white balance control, plus an (excellent) macro mode for close-ups, and a useful backlight compensation option. A variety of colour effects and frames are included, plus a panorama shot mode and a neat continuous-shot option that takes seven consecutive snaps as high-res images and presents them as thumbnails so you can select the best.
Image quality is excellent by phone standards. The resolution means images are extremely detailed, and in decent lighting conditions you can get some great shots. Colour is naturally portrayed and well balanced. It's possible to blow pics up and maintain high quality beyond regular standard photo size, but even on a PC screen you can zoom in for very precise detailing. The autofocus system works crisply, locking on to tight focus areas speedily.
In dark condition, indoors or out, even with the xenon flash, results are less impressive. The flash does provide extra illumination, but pics can be a touch grainy, and the flash tends to overwhelm close-ups. Auto white balance didn't adjust well to low artificial light, so you may want to set the white balance appropriately before shooting to avoid slight colour casts. Post-shooting, there's a remarkable selection of editing options to touch up and correct images in-phone – plus the facility to upload images straight to blogs.
Sponsored: Minds Mastering Machines - Call for papers now open