Interestingly, LG has been thinking about using GPS for fitness too. A Jogging Buddy app uses satellite co-ordinates and your movement to log and monitor running performances, keeping a record of workouts to browse through and compare. It works well, though not everyone will want to jog with a Renoir in their pocket.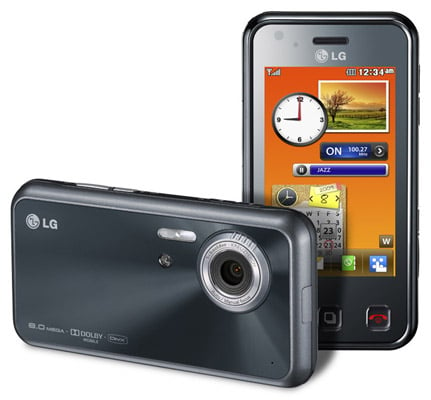 Smaller and lighter than you-know-what
The Renoir delivers an efficient web browsing experience. It's not as slick as the iPhone's Safari browser, but pages usually render well, and you can easily zoom in and smoothly browse through pages using fingertip scrolling control. You can also keep two tabs open and switch between them, while the accelerometer will flip the screen to widescreen view if you want a better overview of a page.
RSS feeds are supported too, and LG has the usual organiser functions loaded up: calendar, to-do lists, memo function, voice recorder, calculator, convertor, world clock and stopwatch, plus Picsel's document reader, which can be used with email attachments or copied-over files. It also includes a couple of unremarkable motion controlled games along with a trio of standard Java games.
The Renoir makes and takes calls without fuss - calls are clear and trouble free. As for battery life, with any touchscreen device that has so many power-sapping functions on board, how much you'll get out of this phone between charges will depend on how and what you're using. To minimise drain, it's definitely worth keeping a check on whether apps have been left working unnecessarily in the background - press the Multitasking key to see what's active.
In ideal conditions, LG reckons the Renoir can keep you switched on for up to 350 hours' standby or 220 minutes of talktime. With average use, we managed a couple of days, but this is one those devices where individual usage and therefore battery performance can vary considerably.
Verdict
LG has gone to town on the imaging capabilities of the Renoir. The eight-megapixel camera is complemented by a mass of snapping aids and clever photo enhancing gadgetry. The overall result is excellent cameraphone performance that hits almost all of the right buttons.

LG Renoir eight-megapixel cameraphone
Big-shot cameraphone performance puts the Renoir in the frame as a touchscreen alternative to the you-know-what.
COMMENTS
@Neil Alexander
Facually incorrect.
GPS uses some fancy maths to work out where it is in relation to certain GPS System (RAS Syndrome?) satellites, based on the delay between sending by the satellite and reception by the device. Devices overhead will be closer than those at other angles to the location, so the GPS receiver can work out where it is from comparing the delay from several sources.
A-GPS makes this easier by downloading the appropriate information based on the location of the nearest Cell over a data connection. This makes the guesswork / mathwork of the GPS receiver take far less time, as it already has reference information for where satellites SHOULD be relative to its (approximate) current position. It can also allow the device to approximate what a GPS signal SHOULD be telling it if the signal drops, allowing for better connectivity within buildings and under cover (to a certain extent).
Re: The A-GPS on our sample was quick to get a satellite fix
A-GPS doesn't use satellites. Unlike vanilla GPS, A-GPS uses phone masts to determine it's location. Can we please decide whether we are talking about GPS or A-GPS here?
No ijesus competitor
It's just an 8mp cameraphone (probably with a tiny sensor to it will be horribly compressed and worse than a decent 5mp sensor), not a smartphone.
And I bet..
.. it's got all the same problems as my old Viewty, inconsistent UI, over-compressed imaging, hopeless multi-tasking, poor multimedia player, promises that glitches will be fixed in "an update" etc etc.
The Viewty was the first phone I ever PAID to get out of a contract to get away from... Never another LG phone as long as I live. All they're interested in is being able to boast bigger numbers for each feature, no thought to the end-user experience. And if you find a bug, tough, LG are too busy looking at their next great handset to be bothered going back and fixing the issue...
hmm, 6 pages and I could not find....
a long article, not to badly written, how ever. What about its spec?, how does it compair to other 8MP phones? like the samsung, i found the other comments very intresstig as i am in the market.
The samsung 8510 comes with 8Gb internal and upto 16Gb cards (which are about £40 each atm).
What codecs does the vieaty thingy support?, can it charge off a standard usb port.
So on top of that, 8MP is not really all that awsome that it can not be compaired to 5Mp phones.
/rant