Camerawork is where the LG Renoir really breaks new ground for a touchscreen phone. Its eight-megapixel camera has a dazzling array of shooting options for a mobile phone.
The autofocus system is enhanced by touch-controlled focusing – you simply tap the part of the picture you want to focus on, take your finger off and the shot is taken. It's simple, but very effective.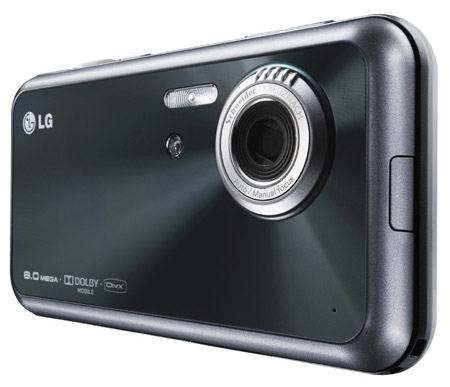 The camera is enhanced by touch-controlled focusing
Other aids for improving shots include automatic face tracking, smile detection, a "beauty shot" option which auto-airbrushes away spots and other blemishes in portraits, and blink detection. These all work surprisingly well, if you need them.
Flip open the lens cover, and you're away. Although the touch interface is extensive, it's not particularly difficult to us. Some day-to-day features – including flash, shot mode and exposure control - are lined up on one side of the screen, while more detailed settings options are accessible by tapping another settings button. You can use the digital zoom by dragging an on-screen slider, though in practice it's easier to use the zoom rocker.
Serious photographers will appreciate controls like ISO adjustment, from 100 to 1600. There's the usual white balance control, plus an (excellent) macro mode for close-ups, and a useful backlight compensation option. A variety of colour effects and frames are included, plus a panorama shot mode and a neat continuous-shot option that takes seven consecutive snaps as high-res images and presents them as thumbnails so you can select the best.
Image quality is excellent by phone standards. The resolution means images are extremely detailed, and in decent lighting conditions you can get some great shots. Colour is naturally portrayed and well balanced. It's possible to blow pics up and maintain high quality beyond regular standard photo size, but even on a PC screen you can zoom in for very precise detailing. The autofocus system works crisply, locking on to tight focus areas speedily.
In dark condition, indoors or out, even with the xenon flash, results are less impressive. The flash does provide extra illumination, but pics can be a touch grainy, and the flash tends to overwhelm close-ups. Auto white balance didn't adjust well to low artificial light, so you may want to set the white balance appropriately before shooting to avoid slight colour casts. Post-shooting, there's a remarkable selection of editing options to touch up and correct images in-phone – plus the facility to upload images straight to blogs.
COMMENTS
@Neil Alexander
Facually incorrect.
GPS uses some fancy maths to work out where it is in relation to certain GPS System (RAS Syndrome?) satellites, based on the delay between sending by the satellite and reception by the device. Devices overhead will be closer than those at other angles to the location, so the GPS receiver can work out where it is from comparing the delay from several sources.
A-GPS makes this easier by downloading the appropriate information based on the location of the nearest Cell over a data connection. This makes the guesswork / mathwork of the GPS receiver take far less time, as it already has reference information for where satellites SHOULD be relative to its (approximate) current position. It can also allow the device to approximate what a GPS signal SHOULD be telling it if the signal drops, allowing for better connectivity within buildings and under cover (to a certain extent).
Re: The A-GPS on our sample was quick to get a satellite fix
A-GPS doesn't use satellites. Unlike vanilla GPS, A-GPS uses phone masts to determine it's location. Can we please decide whether we are talking about GPS or A-GPS here?
No ijesus competitor
It's just an 8mp cameraphone (probably with a tiny sensor to it will be horribly compressed and worse than a decent 5mp sensor), not a smartphone.
And I bet..
.. it's got all the same problems as my old Viewty, inconsistent UI, over-compressed imaging, hopeless multi-tasking, poor multimedia player, promises that glitches will be fixed in "an update" etc etc.
The Viewty was the first phone I ever PAID to get out of a contract to get away from... Never another LG phone as long as I live. All they're interested in is being able to boast bigger numbers for each feature, no thought to the end-user experience. And if you find a bug, tough, LG are too busy looking at their next great handset to be bothered going back and fixing the issue...
hmm, 6 pages and I could not find....
a long article, not to badly written, how ever. What about its spec?, how does it compair to other 8MP phones? like the samsung, i found the other comments very intresstig as i am in the market.
The samsung 8510 comes with 8Gb internal and upto 16Gb cards (which are about £40 each atm).
What codecs does the vieaty thingy support?, can it charge off a standard usb port.
So on top of that, 8MP is not really all that awsome that it can not be compaired to 5Mp phones.
/rant