LG Renoir eight-megapixel cameraphone
Serious alternative to the you-know-what
Interestingly, LG has been thinking about using GPS for fitness too. A Jogging Buddy app uses satellite co-ordinates and your movement to log and monitor running performances, keeping a record of workouts to browse through and compare. It works well, though not everyone will want to jog with a Renoir in their pocket.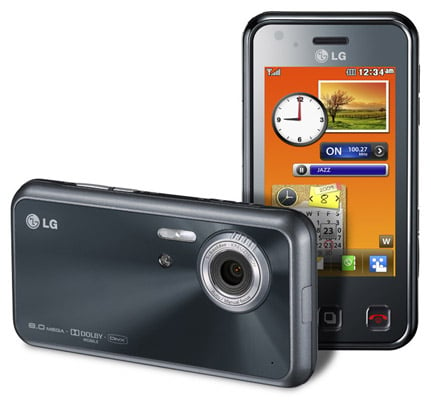 Smaller and lighter than you-know-what
The Renoir delivers an efficient web browsing experience. It's not as slick as the iPhone's Safari browser, but pages usually render well, and you can easily zoom in and smoothly browse through pages using fingertip scrolling control. You can also keep two tabs open and switch between them, while the accelerometer will flip the screen to widescreen view if you want a better overview of a page.
RSS feeds are supported too, and LG has the usual organiser functions loaded up: calendar, to-do lists, memo function, voice recorder, calculator, convertor, world clock and stopwatch, plus Picsel's document reader, which can be used with email attachments or copied-over files. It also includes a couple of unremarkable motion controlled games along with a trio of standard Java games.
The Renoir makes and takes calls without fuss - calls are clear and trouble free. As for battery life, with any touchscreen device that has so many power-sapping functions on board, how much you'll get out of this phone between charges will depend on how and what you're using. To minimise drain, it's definitely worth keeping a check on whether apps have been left working unnecessarily in the background - press the Multitasking key to see what's active.
In ideal conditions, LG reckons the Renoir can keep you switched on for up to 350 hours' standby or 220 minutes of talktime. With average use, we managed a couple of days, but this is one those devices where individual usage and therefore battery performance can vary considerably.
Verdict
LG has gone to town on the imaging capabilities of the Renoir. The eight-megapixel camera is complemented by a mass of snapping aids and clever photo enhancing gadgetry. The overall result is excellent cameraphone performance that hits almost all of the right buttons.
Sponsored: Minds Mastering Machines - Call for papers now open

LG Renoir eight-megapixel cameraphone
Big-shot cameraphone performance puts the Renoir in the frame as a touchscreen alternative to the you-know-what.
Price:
Contract: free - £250, pre-pay: n/a, handset only: £370 RRP