LG Renoir eight-megapixel cameraphone
Serious alternative to the you-know-what
You can simply flick through these with your finger, and drag and drop as many of them as you like onto the main part of the screen, moving them around as you like. Close the widgets function, and they remain on screen until you choose to drag them off again.
Pressing the main menu button calls u a side bar of four sub-menu category icons: communication, entertainment, utilities and settings. Tap these and you get a grid of related function icons to select from.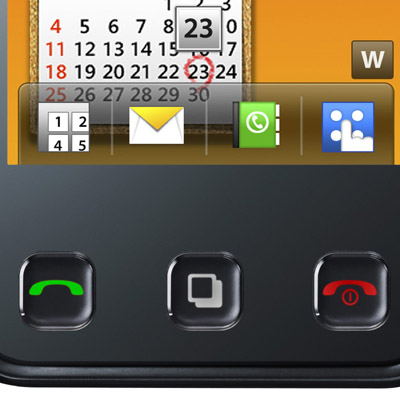 Buttons are well-space to avoid mis-presses
You'll find the screen lock automatically kicks in to prevent accidental pressing, or you can lock it by pressing a button on the side of the phone. Press and hold an on-screen lock icon, or the side button, and it unlocks easily enough.
Usefully, you can tap the top of the screen in most menu screens to get an status summary which, as well as various connectivity and battery read-outs, also provides switches for Bluetooth, Wi-Fi and the music player.
When you're composing messages and emails, or typing notes or memos, hold the phone in portrait mode to use the virtual phone numberpad for normal texting input. Alternatively, turn the phone sideways, and a motion sensor automatically flips the screen sideways and pops up a Qwerty keyboard.
Its keys are small, but it is surprisingly usable - we found it perfectly fine for tapping in messages. And if you want to see a full message you're composing, a virtual button press hides the keyboard or numbered to view full text on screen, giving plenty more reading room.
Sponsored: Minds Mastering Machines - Call for papers now open