Asus N10 notebook-not-netbook
Best of both worlds - or the worst?
We ran our customary netbook-oriented battery life test: keep Wi-Fi on, set the screen to maximum brightness and run a standard-definition H.264 movie full-screen until the screen goes dead. The N10 goes into Battery Saving mode as soon as the power cable's pulled, and we tested the machine at that setting and in High Performance mode. We also tried it using the integrated GPU rather than the Nvidia chip.
Battery Life Results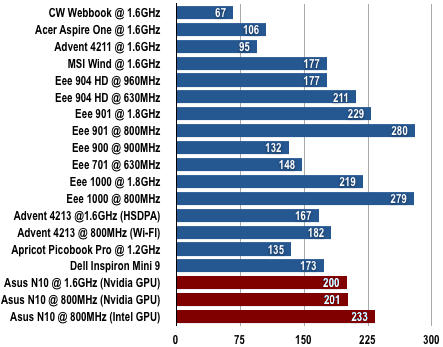 Battery life in minutes
Longer bars are better
The change in CPU speed made little difference when the Nvidia GPU was enabled - the graphics chip and the screen dominating the power draw. But the time of three hours 20 minutes isn't bad for a netbook. Switching to the integrated GPU saw the runtime leap just shy of four hours. Compared to other netbooks, the N10 delivers a very respectable performance.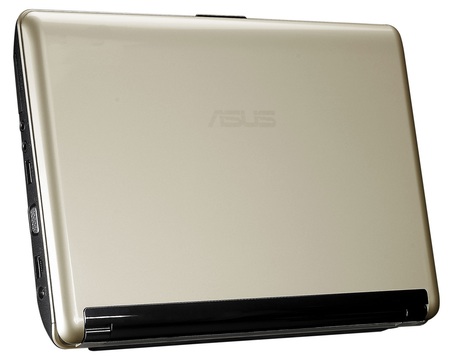 The luxury-lover's netbook?
Asus has made it easy to get to the N10's memory, hard drive and wireless card: just unscrew the large hatch on the base of the machine, and you're ready to start upgrading.
Verdict
It's hard not to like the N10 when it's sitting in front of you, but we can't help coming back to its neither-fish-nor-fowl nature. Think of it as a notebook, and its performance and low screen size and resolution will disappoint. Consider it a netbook, and it's expensive and bulky. This is a shame, because the N10 packs in a heck of a lot of technology for the price and it looks great. But it sits right between two stools, and we think most buyers will opt for either a smaller netbook or a larger, more powerful notebook.
Sponsored: Minds Mastering Machines - Call for papers now open

Asus N10 notebook-not-netbook
Somewhere in between a netbook and a notebook, the N10 doesn't deliver the best of both worlds.