Michael Dell, indie movie extra
Plays self in 'Sno Cone' flick
Maybe Dell's finances are being squeezed even tighter than we suspected.
We ponder this point, not because of massive layoffs, a hiring freeze, spending cuts, or even pressuring workings into leave without pay — no, those are all good reasons for concern but not the clincher.
Our best indication is that CEO Michael Dell is moonlighting as an extra in an upcoming independent movie.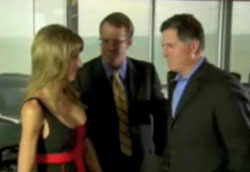 Acting! Good lord, at least he's not stuffing infant corpses full of drug baggies and smuggling them across the border. But thespianism is a slippery slope, friends. Ex-Reg hack Ashlee Vance at the New York Times has the scoop.
Tough times clearly call for Dell's desperate measures. We're not sure where he blew his last $2.3bn, but maybe that's why Dell couldn't cut his own salary amidst asking employees to sacrifice a chunk of their paycheck.
Dell and his wife Susan make a brief and line-less appearance in the a film called "The Sno Cone Stand, Inc."
We quote the movie's website for the synopsis:
The Sno Cone Stand, Inc. is a lighthearted Austin [Texas] original comedy about three twenty-something stockbroker trainees who hate their job and their intimidating boss at Miller Stinch Financial. They will try just about anything, including selling sno cones, 'to climb their way down the corporate ladder."
Dell plays himself in the flick, as a major investor in the broker firm. His brief screen time mostly focuses on the back of his head, but he does manage to show off his acting chops with a fist pound and bemused head shake as he exits stage left.
The Old Grey Lady online has a clip of the scene here.
Sno Cone has a limited release with a few showings in Austin and New York. The producers are hopeful the film could receive a wider showing, or DVD release. ®
Sponsored: Minds Mastering Machines - Call for papers now open