Cisco storage slumps again
Brocade biting its ass?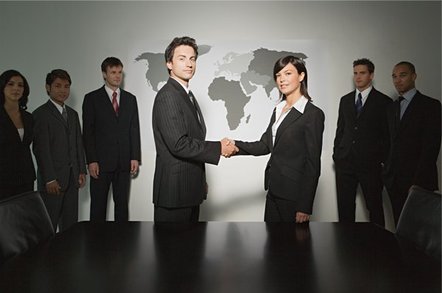 Here's something to cheer Mike Klayko, Brocade's CEO: network giant Cisco's storage revenues dropped 4 per cent year-on-year in its latest quarterly report. Cisco is playing a long game in storage and it looks as if Brocade is biting its ass.
The storage networking strategy chessboard looks like this: In terms of SAN fabric switches and directors the two main players are Cisco with its MDS range and Brocade with its Silkworm line.
Yes, Cisco wants to dominate the storage networking business but it's finding Brocade a very tough nut to crack. It punts its MDS 9000 line to Fibre Channel SAN customers, extolling the box' ablility to cut a physical SAN into virtualised smaller SANs or VSANs. Having been unable to dislodge Brocade from its position, Cisco has alighted on Ethernet as a long-term Fibre Channel replacement and is enthusiastically promoting the layering of the Fibre Channel protocol over Ethernet (FCoE) and saying Ethernet economics (high volume; low cost) will win out over FC (lower volume; higher cost).
Simultaneously, it is integrating the front end of its Ethernet switches into VMware's virtual server environment and so hoping to switch Brocade's customers with VMware servers into using its Ethernet kit for storage networking.
As an earnest of this, it has increased its stake in VMware by buying $13m of shares from Intel, taking its holding to 1.7 per cent, saying it wants to promote a strong collaboration with VMware.
Brocade, seeing Cisco want to trample all over its FC storage networking field with its great big Ethernet boots, is getting its own Ethernet boots and replying in kind. It is buying Foundry networks, which gives it immediate entry into Ethernet networking and also adopting FCoE, but not so aggressively as Cisco, saying we need a firm Data Centre Ethernet (DCE) standard first, one that provides a common basis for predictable Ethernet latency and no loss of packets.
Brocade, like Cisco, has introduced a high-end data centre switch product, its DCX, one that provides Ethernet networking as well as Fibre Channel, and one that can be a general data centre switch to link servers, storage and network resources within and between data centres.
The company has two aims, we think. One is to upgrade its own customer base to its vision of combined Ethernet and Fibre Channel networking. Customers with tens of Brocade switches and directors should find it easier to upgrade than to bring in new and unknown Cisco kit requiring a separate system management expertise resource.
Secondly, Brocade wants to sell its storage networking kit into the Foundry customer base as well as expand that base.
To an extent Cisco has shot itself in the foot by over-promoting FCoE and under-promoting 8Gbit/s Fibre Channel which Brocade added to its product line well before Cisco. What this has done is to allow Brocade to grow stronger in the storage networking market whilst Cisco has been running on the spot and not moving forward.
This is shown in Cisco's storage sales revenues which slumped last quarter. Now here is the second quarterly decline in a row. Wachovia analyst Aaron Rakers estimates that Cisco had storage revenues in its first fiscal 2009 quarter of $141m - Cisco doesn't break out its storage sales - 4 per cent down on the year-ago quarter. His calculations show Cisco having a 14 per cent decline in storage revenues in its previous quarter (Q4 fy08) on a year-on-year basis after four previous quarters of growth.
Brocade is doing better. It's third calendar quarter in 2008 saw revenues of $365.7m ($327.5m a year ago) and net income of $20.3m ($10.7m a year ago). These results don't include the month of October, while Cisco's do, and this month would have been affected by the economic downturn.
Overall, it looks as if Cisco has no effective way to outsell Brocade in Fibre Channel SANs and is relying on FCoE adoption to spark storage revenues into growth again. Since pitbull Brocade also has its teeth into FCoE and has its Foundry Ethernet play the odds are that Cisco is going to find Brocade a stronger competitor in the future than it is now.
Read about Cisco's overall Q1 fy09 results here. ®
Sponsored: Minds Mastering Machines - Call for papers now open