Doctor debuts field-tested brainwave comms kit
Mind over matter
The designer of a high-tech system allowing brain-damaged people to communicate and perform physical tasks through the power of thought has claimed to be the first able to successfully test it on such patients.
The system, designed by Dr Paul Gnanayutham from the University of Portsmouth, picks up a patient's "bio-potential" signals, such as brain waves and eye movements, through an Alice-band fitted with electronic probes.
These probes feed the signals to a laptop which uses sophisticated algorithms to allow the patient to move a cursor to select actions listed on screen, such as turning on a TV, viewing a website and switching on the lights.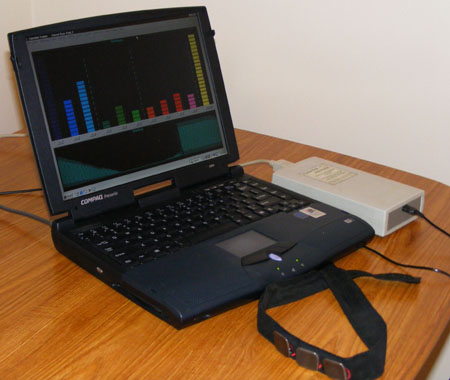 Turns thoughts and facial movements in actions
Gnanayutham admitted that similar systems have been designed before, but claimed that until now all had been progressed no further than lab tests conducted on able-bodied people.
Gnanayutham spent eight months testing his system on a man who couldn't communicate because of a broken brain stem. The technology allowed the patient to communicate feelings about his family for the first time.
"I want people to be able to use it without doctors and without me," Gnanayutham said. "I want to give them their voice back."
The doctor is now on the lookout for funding to help turn the technology into a product that can be bought and used without expert help.
Sponsored: Minds Mastering Machines - Call for papers now open