Creative Sound Blaster X-Fi ExpressCard and Wireless Receiver
Film fans and game buffs, rejoice
But - and it's a big but - signal drop-out is simply appalling.
Case in point. We plugged the card into a laptop on the first floor of a 1950s brick-built semi, and the receiver into the LG 5.1 home cinema system in the room below. The slightest movement by us in the room with the PC or in the vicinity of the receiver caused the signal to drop. Sometimes the signal dropped or degraded no matter where or how still we stood.
Creative says the Wireless Receiver is great for parties. We can only assume that at Creative gatherings everyone remains utterly motionless.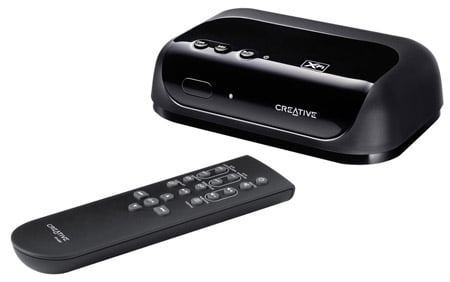 Suffered from appalling signal drop-out
According to spec sheet, the system "works" over the 2.4GHz band, so just to be on the safe side we turned our wireless network off, switched off Bluetooth phones and unplugged the microwave, but to no effect. In a final act of desperation, we even took our belt off in case it was an issue with the metal buckle. The only effect that had was that our pants fell down and the girl from accounts got the shock of her life when she walked in. Signal reception remained the same.
The only way we could get a continuous and reliable signal was to place the receiver more or less in line of sight and not much more than three or four metres from the transmitter - a set up that defeats the whole point of the system.
The Sound Blaster X-Fi Notebook can support up to four receivers around the house, but judging by our experiences any hope of setting up an effective house-wide wireless music system using this pick-up would be optimistic in the extreme.
Verdict
The Sound Blaster X-Fi Notebook is a great add-on for gamers and film buffs – though we suspect either group will be using a desktop PC rather than a laptop to get their jollies. At £60, it's reasonably priced too.
As for the Wireless Receiver, our advice would be to save the 60 quid Creative wants for it and buy a real Wi-Fi music streamer or just invest in a long cable.
Sponsored: Minds Mastering Machines - Call for papers now open

Creative Sound Blaster X-Fi ExpressCard and Wireless Receiver
The Sound Blaster card will appeal to gamers and surround sound cinema buffs.

Creative Sound Blaster X-Fi ExpressCard and Wireless Receiver
A hopeless waste of time and money.