Group Test: electronic book readers
Take your library with you when you travel
Its extra size means the iLiad can house an 8.1in screen where as the others make do with a mere 6in panel. All four devices use the same basic electronic paper display - though the iLiad alone doesn't claim to be made by E Ink – so you get the expected black out of pale grey display and no built-in illumination.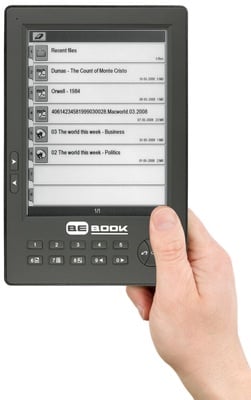 Endless Ideas' BeBook: bookmarks set through menus
To be precise, the CyBook has a 166dpi four-level greyscale screen; the Sony a 170dpi, eight-level greyscale panel; and the iLiad a 160dpi, 16-level greyscale display. The BeBook's spec sheet was silent on this issue but it looked comparable to the CyBook. The screens on all four devices are very easy on the eye and provide good clear definition, technical minutiae notwithstanding.
That's only part of the story, though. When it comes to displaying copy not specifically formatted for its screen size, the CyBook has the edge due its ability to present fonts in any one of 12 sizes and by the fine job it makes of separating paragraphs and handling justification. The Sony runs the CyBook a very, very close second, while the iLiad makes good use of that extra screen size to present a nicely spaced page.
The BeBook isn't as successful at replicating a finely printed page, the lines being too widely spaced and paragraph returns lacking sufficient distinction. With no way of altering the line spacing, what we ended up looking at was just a little, well, messy.
Of course, this is really only an issue for newly published books which come with DRM and often in Mobipocket and EPUB format. The BeBook website is home to over 20,000 English language PDF books specifically formatted for it and they looked just fine on its screen.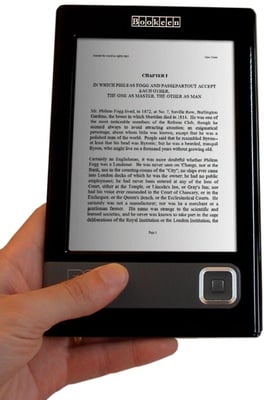 Bookeen's CyBook: has the edge when it comes to displaying text
Speaking of ebook formats, all four readers support PDF, HTML and TXT files. The Sony Reader and the BeBook also support EPUB files, but the CyBook and iLiad don't. The BeBook, iLiad and CyBook support Mobipocket files, but the Sony doesn't. The Reader also supports Sony's proprietary BBeB ("BroadBand eBook") format.
Sponsored: Minds Mastering Machines - Call for papers now open