The speed of page turn is about the same across the board, and all do the 'flash' from black out of grey to grey out of black as they change. The CyBook can be set so that rather than flash, the text morphs into a new page. It's rather disturbing to watch so we wouldn't recommend it.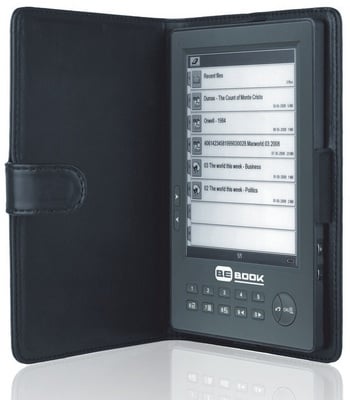 512MB of on-board storage plus SDHC cards
None of these devices are exactly bursting at the seams with internal storage, the iLiad coming with 128MB, the Sony 192MB, while the CyBook and BeBook both have 512MB apiece. All four devices do, however, have memory card slots. On the CyBook and BeBook, expansion means a single SD slot, but in both instances this includes support for SDHC cards of up to at least 8GB, the capacity of the card we used for the test.
The Sony supports SDHC too, but being Sony also comes with a MemoryStick Duo slot. The iLiad will let you stuff a USB stick straight into it, which is handy, while also supporting SD – though not SDHC – and CompactFlash.
Loading non-DRM content onto any of the readers is straightforward as they all appear as mass-storage devices when plugged into Windows, Linux or Mac boxes. Sony supplies the Reader with its Window's only eBook Library application which allows you to read your books on your PC as well as manage content on the Reader. For some reason, the BeBook only supports USB 1.1 making a rather leisurely transfer of data.
The BeBook, Reader and CyBook can all be recharged through the USB cable, though Sony also gives you the option of using a 5.2V mains charger. The iLiad is mains-charged only, a process which involves plugging a mains cable into the "travel hub" that then connects to the bespoke USB port. The same hub is needed to link the iLiad to a computer. It's not the most elegant way of doing things.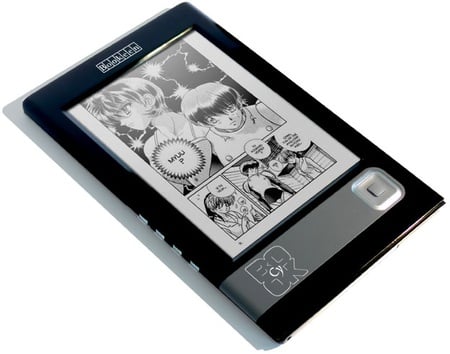 The CyBook's good for comics - even with a four-level greyscale screen
If you want your ebook reader to play music, forget the iLiad as it simply doesn't support audio files at the moment, though the presence of a 3.5mm earphones jack suggests a firmware update may address this in the future. The other three players provide basic support for MP3 files – and AAC in the Sony's case - though none support ID3 tags, so you files appear either in simple alphabetical order or with all track 1s, 2s, etc grouped together.