Group Test: electronic book readers
Take your library with you when you travel
Verdict
The BeBook is the first to fall by the wayside. It's a decent little device, but the way it presents Mobipocket and EPUB content simply isn't good enough and that's a major issue if you plan on purchasing DRM-protected - ie. recently published - content.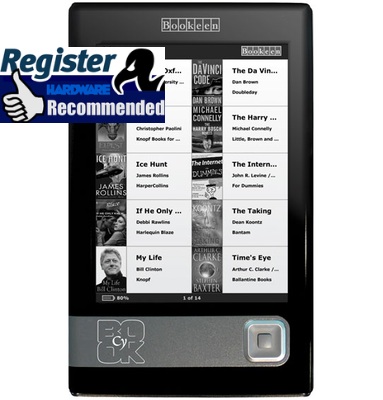 Next comes the iLiad. Yes, it does a lot more than the other three readers on test and has the larger screen but it's more than twice the price and we aren't sure how much use all that extra stuff will be to the your average buyer. The larger screen doesn't really justify the bigger size and weight, either, and the lack of a bookmark function is a drawback.
It's a close run thing between the Sony Reader and the Bookeen CyBook. The CyBook is wonderfully small and light, and for our money shades the Sony for legibility when presenting most formats. It does feel rather plasticky for something costing £180, though.
So the winner is the Sony. Why? Well, it's the best made and nicest looking of the four by some margin, and as is often said by fans of the iPod, it just works. Give all four of these devices to a ten-year-old and ask them to tell you which is the easiest to switch on, use and get familiar with, they will tell you the Sony. How do we know this? Because we tried it with a couple of ten-year-olds.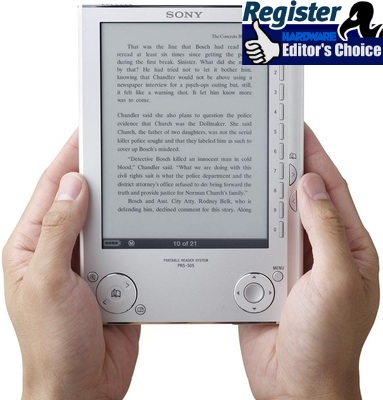 It's the little things: the dedicated bookmark button, the fact you can access all your bookmarks from the main menu rather than having to open up the relevant book first, and the menu layout. It just shows that Sony has been around the block once or twice when it comes to making a usable and desirable consumer gadget. The only serious drawback is the lack of support for Mobipocket files.
Sponsored: Minds Mastering Machines - Call for papers now open

Group Test: electronic book readers
A decent little device let down by its weaker-than-the-rest display abilities.

Group Test: electronic book readers
Well featured, but large and weighty - and with a hefty price tag attached.

Group Test: electronic book readers
It's skinny and packs plenty of storage, but a little cheap feeling.

Group Test: electronic book readers
Simply, the most stylish and the best designed ebook reader in the UK.