Group Test: electronic book readers
Take your library with you when you travel
Like the iLiad, the Sony and BeBook devices have 3.5mm jacks. The CyBook has a 2.5mm jack and to make matters worse it is recessed to such an extent that neither of the two 3.5-2.5mm adaptors we had in the office would fit.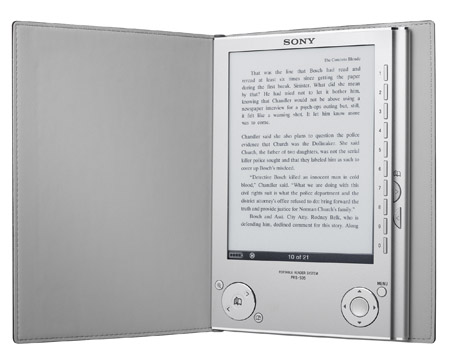 Not a great MP3 player
By nature, these clever E Ink displays don't draw power unless they are changing so all four devices will last a long time on a charge. Sony claim 6800 page flips, Bookeen claims 7000 for the CyBook, while Endless Ideas claims 8000. iRex simply states a battery life of 15 hours, but that's for a mixed use regime of taking notes, reading documents and generally mucking about.
In real terms, a full charge will probably see most users through the thick end of a week of reading. A word of caution, though: our test CyBook developed a habit of crashing regularly, though because it's a used and doubtless abused review sample, we're chalking this down to one-off issues with our device rather than any systemic failings with the hardware or firmware.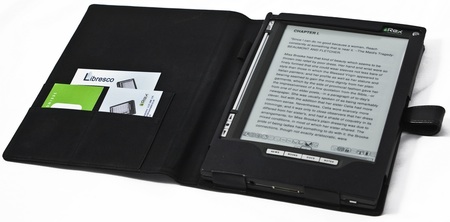 Comes with Wi-Fi... at a price
So, how big a hole will these things put in your pocket? Direct from the relevant companies, the CyBook will set you back £180, the Sony Reader £200 and the BeBook £220. The iLiad costs an eye watering £450. Of course, it comes with Wi-Fi, an Ethernet port in the travel hub and a touchscreen so you can make notes on it, but all that doesn't really have an impact on its abilities as an ebook reader.
Smartphones and PDAs
One of the most popular ebook readers of late is the iPhone, thanks to freeware reader application Stanza, available from the iTunes App Store and very good it is too.
The app gives you full control of how text is presented - font, size, colour and line spacing - and you can bookmark pages easily. It contains links to major (free) ebook suppliers so you can download straight to the phone, though it means there's no way to transfer books to your computer or load up files - PDFs, for example - of your own.
We'll be rounding up a range of good smartphone ebook readers - not just the iPhone ones - in the near future.
Sponsored: Minds Mastering Machines - Call for papers now open