The True Confessions of an Election Official
Inside the machinery of the 2008 vote
Master of the Machines
Every morning I start work by feeding the previous day's documents into the AcroPrint machine. I love the Acroprint. Every paper document must be AcroPrinted within 24 hours of receipt. I love the AcroPrint because it's the oldest, dumbest machine in the office.
All it does is stamp a date and a unique, sequential number on paper. This machine is so dumb that it doesn't even have a clock, you have to change the date each morning by opening it up and pushing a gear. The AcroPrint is the paper equivalent of a digital file's creation date. Every sheet must be manually fed into the machine, and the mechanical metal stamp hits the paper with an incredibly loud BANG.
Due to the noise, the AcroPrint has been banished into the farthest room in the office, which unfortunately is now populated with laptops that are constantly used by the lowest ranking temp workers (like me). Everyone hates the AcroPrint.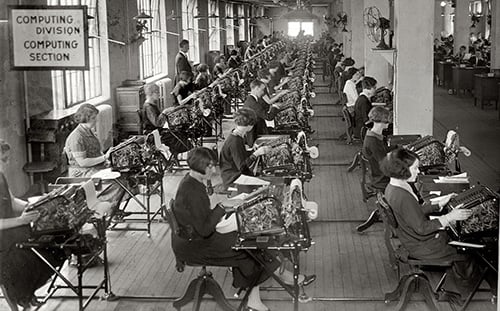 But I am the AcroPrint Master. Most people can stamp a document every couple of seconds, I can feed at two or three documents per second, sometimes when I get on a roll I can do bursts of 4 or 5 documents per second. I get in early and stamp every document in the queue before everyone arrives, so nobody gets annoyed at the noise. I usually stamp several thousand documents each morning. It's the first step in document processing. I tell everyone I'm the drummer in the band, I set the beat for everyone else. Nothing gets done without a document signed by a voter, and every document must be AcroPrinted first. Everything moves at the speed of paper. I set the speed at which paper can be handled.
Every document, even of digital origin, must hit paper. If you send an email to the office, it will be laser-printed on paper, AcroPrinted, and rescanned. This seems redundant since most of the emails have dates printed on them. But the analog stamp carries some sort of authority that laser printing does not, it is a seal of authentication physically embossed into paper.
After AcroPrinting, every document is scanned, and each scan must be visually inspected to verify that the signature can be clearly read. That's the easy part. Then the documents must be "attached." The computer can't read handwriting, so a human operator must read the document, locate the voter's digital record, and connect it to the scanned image. This is where the digital and paper systems meet and become mirror images of each other.
Once the images of paper records are attached to the digital records, the papers are sorted and stored, in case an original signature needs to be visually verified. I watched over the course of a week as a single woman sorted 40,000 paper records in sequential order, bundled them in rubber bands, and filed them in Banker's Boxes. I was astonished.
After the paper records are archived, regular bureaucratic functions of the office can proceed on the digital side, using the custom "iVoter" software. Voters identities can be digitally verified, checked for mistakes or duplicate records, or used on our laptops at voting sites to check registrations.
When a voter wants to get a ballot, we print his digital record on a label printer, stick it to a paper form labeled "Absentee Ballot Request Form", he signs it, and then it is put in a basket. The next morning those documents are AcroPrinted, scanned, attached, filed and the cycle begins again. Our paperwork system is like a Mobius Strip, rolling in tighter and tighter loops. I have no idea what happens to the paper records after the election is over and results certified, I suspect its sheer weight causes it to collapse into a Black Hole and it vanishes.
But none of this is apparent on the front lines. We have portable voter units, it fits in a van. We have fold-up voting booths and tables, laptops with label printers, and we can set up anywhere in half an hour. We run anywhere there is a power outlet and Wi-Fi networking, or even through cellular modems. We have a VPN to run encrypted connections to secure our data transmissions. We have our custom iVoter software to connect to the massive statewide Oracle database, we can transfer voter registrations from any county. The voting laws of the state have been crafted into code, if it can be done legally, it can be done in iVoter. If it is illegal, iVoter will prevent it.
The Final Rush
I've been working for three weeks, an average of 12 hours a day. I've worked on the front lines handing out ballots, and in the back rooms recording and fixing their registration and voting records. I'm the only newbie PEO who has such an extensive view of the inside and outside work, or at least, the only person willing to do it for 12 hours a day, every day. I joke with the workers that I noticed all our voting sites have emergency defibrillators, which is good since I'm likely to drop dead of a heart attack from overwork. One of the deputies said, "oh, didn't you know, we require all our sites to have defibrillators available!"
Despite the overwork, our efforts have succeeded beyond our wildest expectations. Over 45 per cent of all registered voters have already cast an early ballot. This should alleviate the long lines on election day. But our last day was the wildest day ever. We were warned that many voters would vote early on November 3, the day before Election Day. They would procrastinate and vote early, but as late as possible. And I have procrastinated too. For the last week, I have repeatedly tried to vote early, at my own site. Today was my last chance to vote early. Every time I prepared to pull up my own voter registration, a voter arrived at my desk and I had to help them. I could not find time to vote.
Now, as I write this, I have stayed up all night, it is the morning of Election Day. In a few hours, with no sleep, I will go open the polls at the precinct I have been assigned. I will work from 5:30AM until 9PM. The polls are expected to be busy continuously from the moment they open until the time they close. Perhaps I will not find time to ever vote, in the election I have worked so hard to help others to vote. ®
Sponsored: Minds Mastering Machines - Call for papers now open