Intel Core i7 'Nehalem' processor and X58 chipset
We put the chip giant's new architecture to the test
We installed 3GB of memory in single-channel mode and once again found that performance was barely affected, but no doubt we shall find that games and other large work loads will benefit from the bandwidth.
Power Draw Results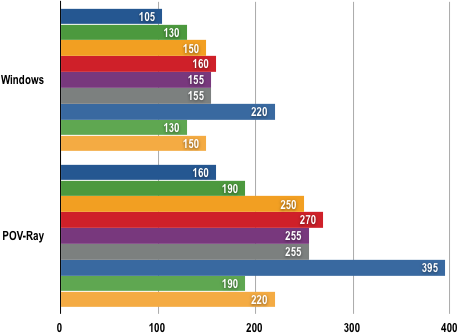 Power in Watts
Having got impressive results from eight virtual processor cores we thought it would be a good idea to do a back-to-back comparison with the Intel D5400XS Skulltrail platform, which has dual quad-core QX9770 processors. We overclocked the processors to 4.0GHz and found that performance fell somewhere between the Core 2 QX9650 and Core i7, although the POV-Ray result was nothing short of epic. Unfortunately, the power draw was also colossal.
Our final series of test runs used the 2.66GHz Core i7 920 which can be easily overclocked to 2.93GHz or 3.20GHz. This isn't exactly the same as the 3.2GHz Core i7 965 as the QPI bus of the 920 has less bandwidth and the performance of the 920 was indeed lower than 965 although the gap was very narrow.
Verdict
It's hard to sum up our feelings about Core i7 in a few sentences but we'll give it a try. Intel's new processor seems to owe very little to Core 2 yet it behaves like Core 2 on steroids. At any given clock speed, you get more performance out of Core i7. On the downside, it also demands more power.
The value of triple-channel memory is unclear but the inclusion of the new controller looks like a good idea as the extra bandwidth will certainly be used in some applications. Moving the memory controller from the chipset to the CPU is undoubtedly the right idea, and if AMD did it first, so what? In fact, that might be the best way to describe Core i7: it's just like AMD's Phenom, only done properly.
Core i7 takes over where Core 2 tails off and it delivers an impressive level of performance while raising clock speeds by only a small amount. The move away from the antique frontside bus is welcome and the Turbo Mode looks promising, but the power saving features seem to need some development.
Sponsored: Minds Mastering Machines - Call for papers now open

Intel Core i7 'Nehalem' processor and X58 chipset
Intel consolidates its dominance on the desktop with Core i7.
Price:
£270 (i7 920), £493 (i7 940), £881 (i7 965 Extreme) RRP