Intel Core i7 'Nehalem' processor and X58 chipset
We put the chip giant's new architecture to the test
SiSoft Sandra Results
Memory Latency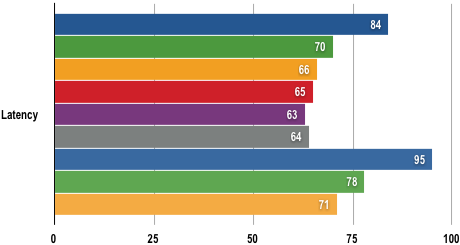 Latency in nanoseconds
Shorter bars are better
The synthetic POV-Ray benchmark rated both processors evenly, but recoding a 350MB AVI file in DivX 6.8 was a massive triumph for Core i7. DivX seems to be an early adopter of new SSE instructions but the jump from Core 2 to Core i7 is quite remarkable.
AVI Conversion Results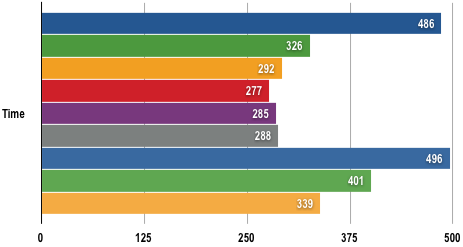 Time in seconds
Shorter bars are better
The Asus Rampage II has CPU Level Up settings in the Bios that allow for easy overclocking with the delightful pre-set names i7-crazy-3.60G and i7-crazy-4.00G. The 3.6GHz setting raises the 133MHz base clock to 150MHz with the multiplier at 24x and memory at 8x, while the 4.0GHz setting is 26 x 155MHz and 6 x 155MHz memory. That's only 910MHz, so we raised the memory speed to the next setting which is 1282MHz. We would have expected the memory speed to be 1240MHz (8 x 155MHz) and wonder whether this might be due to the effects of dynamic overclocking.
The effects on performance of the increased clock speed were as impressive as we would have hoped, but the power draw was worryingly high. At 3.2GHz, the Core i7 965 was slightly more juicy than the QX9650 but when we overclocked the Core i7, the power consumption climbed to the heavens and showed no sign of the clever power-saving technologies we had hoped to see.
POVRay Rendering Time Results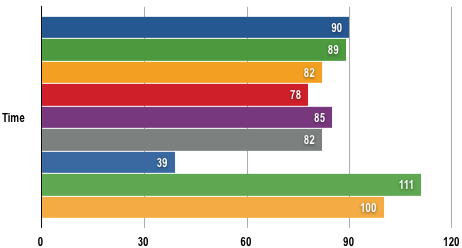 Time in seconds
Shorter bars are better
Once we had Core i7 running at 4GHz, we monkeyed around with the memory to see just what effect triple-channel was having. To get the memory in dual-channel mode, we pulled out one module and naturally enough saw that memory bandwidth plunged. However, the effect on performance was fairly minor.
Interestingly, we saw power consumption under load drop by 15W, which suggests that the memory controller in the processor core is working rather hard.
Sponsored: Minds Mastering Machines - Call for papers now open