Intel Core i7 'Nehalem' processor and X58 chipset
We put the chip giant's new architecture to the test
That's the theory but now it's time to see how Core i7 performs.

Intel said, 'test these.' So we did.
Our Intel-supplied review kit consists of a hefty box of goodies that includes a Core i7 920, Core i7 965 Extreme, DX58SO motherboard, three 1GB 1066MHz DDR 3 DIMMs from Qimonda, a regular Intel heatsink, a hefty Thermalright heatsink and an 80GB X25-M Solid State Drive.
Although we love the X25-M dearly, it's 80GB capacity makes it impractical for everyday use and its £500-600 cost makes it an exotic treat. For the purposes of this review we're sticking with a 1TB WD Caviar Black, which is a decent hard drive and which neither slows nor flatters the Core i7.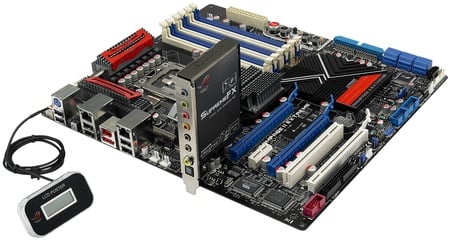 Asus' Rampage II Extreme mobo: CrossFire and SLI
The other decision we took is to test the new CPUs with an Asus Rampage II Extreme motherboard that supports both CrossFire and SLI. We used a relatively puny GeForce 8800GT during our tests as the emphasis was on system and CPU performance, but we have also done some quick runs with a pair of GeForce GTX 280 cards in SLI and intend to do a follow-up on Core i7 and X58 for gaming.
Although the Intel DX58SO motherboard looks very interesting, it seems a bit daft to exclude the possibility of SLI while we're getting familiar with this new processor and chipset.
Our starting point is the Core 2 Extreme QX9650 overclocked from its stock speed of 3.0GHz to 3.16GHz on an Intel DX38BT with 2GB of dual-channel DDR 3 running at 1333MHz. This is a damn fine PC that represents the best of the current generation of technology so it is telling to compare it with the Core i7 Extreme at its stock speed of 3.2GHz with triple-channel memory running at 1,066MHz.
Sponsored: Minds Mastering Machines - Call for papers now open