Intel Core i7 'Nehalem' processor and X58 chipset
We put the chip giant's new architecture to the test
Key features of the three 'Bloomfield' LGA1366 Core i7 processors that are due to launch later in November are the 45nm fabrication process and the integrated DDR 3 memory controller. We'll see similar technology in AMD's 'Shanghai' Opteron and 'Deneb' desktop processors, but one Core i7 feature we don't expect to see replicated by AMD is the use of HyperThreading. Yes, the quad-core Core i7 has eight virtual cores.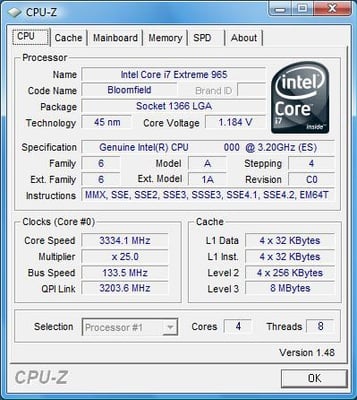 Intel's Core i7 965 Extreme in CPU-Z
This is something of a puzzle, as you rarely come across software that makes proper use of four cores so eight virtual cores seems like complete overkill.
Core i7 supports SSE4.2 which will doubtless reap some rewards with optimised software. Intel officially supports 800MHz and 1066MHz DDR 3 memory, which seems rather slow as 1600MHz was a feature of X48-based motherboards and it was common to overclock memory to 1800MHz or even 2000MHz. Clearly, Intel is relying on the bandwidth offered by triple-channel memory to overcome the relative lack of speed, but it's also serious about saving power and warns that if you pump too much juice into your Ram, you might damage your CPU.
'Too much' is 1.5V, although Asus says that it is has successfully tested its X58-based P6T motherboard with 1.65V coursing through the memory. We have previously used as much as 1.95V in DDR 3 memory, so this is a dramatic change but it seems entirely consistent with Intel's approach to the P45 chipset, which moves away from the need to pump large amounts of power through the chipset when you want to overclock your processor.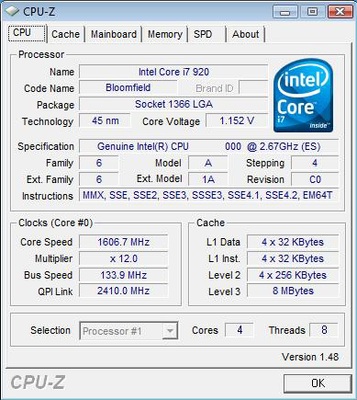 Intel's Core i7 920 in CPU-Z
On the subject of chipsets, the only pairing for the initial models of Core i7 is the Intel X58, which includes the ICH10R southbridge. Nvidia has a QPI bus licence and could theoretically manufacture chipsets for the Bloomfield variant of Core i7 but it either ran out of development time or considered that it was a poor use of development resources.
Either way, for now the only chipset in the game is the X58, and that posed Nvidia with a problem its graphics people are keen to sell as many gaming GPUs as possible. This dilemma has been resolved by allowing SLI to run on X58 provided the motherboard vendor has paid the necessary fee to Nvidia. We understand this fee stands at $5 per motherboard and at present the only motherboard manufacturer to refuse the payment is Intel itself. If you buy an Asus, ECS, EVGA, Gigabyte or MSI X58 motherboard you can be fairly sure that it will be able to run CrossFire and SLI, while the Intel DX58SO board can 'only' run CrossFire.
Sponsored: Minds Mastering Machines - Call for papers now open