What's the best 1TB wireless storage box?
Q&A
I'm looking for a product similar to the Freecom Datatank Gateway. Can anyone suggest a good alternative?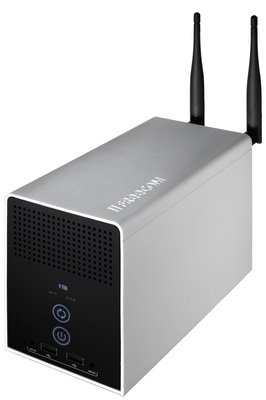 I was originally going to get the Freecom, but after reading some reviews it didn't seem that good. Are there any good alternatives?
All I want is a 1TB HDD with wireless features, Raid 1 technology and printer sharing that will be like my central file storage centre where I can access files using two wireless laptops.
COMMENTS
@Tony
What you can do is put an external USB drive into the Time Capsule and schedule backups to it also.
I love my TC. It works seamlessly and is incredibly quick!
@Amarjit
It lacks RAID, but I'd recommend a 1TB Apple Time Capsule. It's a wireless router with on-board storage - there's a USB 2.0 port to add more - and printer sharing. I have the 512GB version, which I use as a media store and file-swap facility for a couple of Macs, my partner's Vaio and my kid's netbook - my own netbook too.
Works a treat and is reasonably priced. And you can access its content remotely over the internet.
More here: http://www.apple.com/timecapsule/