Asus intros £449 all-in-one desktop Eee
Asus unveiled its touchscreen desktop Eee PC, the Top 1602, late last week, touting the all-in-one box's "powerful multimedia capabilities".
What, with a 1.6GHz Intel Atom N270 processor and the chip giant's GMA 950 integrated graphics on board? "I think you overestimate their chances."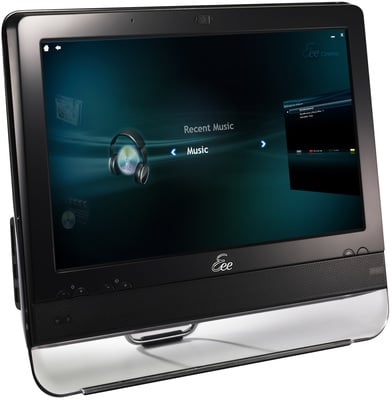 Asus' Eee Top: slimline media centre, anyone?
Still, that hasn't stopped Asus build some decent speakerage - Denon 4W stereo boys, according to the pictures - under the 15.6in, 16:10-ratio display. Asus didn't specify the Top's display resolution - we hope it's not the Small, Cheap Computer-standard 1024 x 600. The sound sub-system is an SRS Premium.
Other specs include Gigabit Ethernet and 802.11n Wi-Fi for networking; a 160GB, 5400rpm 3Gb/s SATA hard drive and SDHC card reader for storage; two USB 2.0 ports; and 5.1-channel output through the re-configurable audio jacks.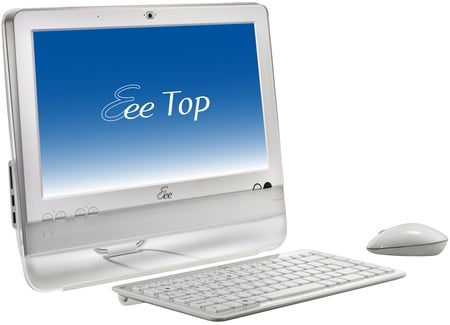 Topping
To make use of the display's touch-sensitivity, Asus is bundling SoftStylus for on-screen finger-writing. It's also including a touch-controlled version of Opera, and Eee Cinema, its version of Microsoft Media Center. Speaking of MS, the Top 1602 comes with Windows XP. There's no word yet on a Linux version.
However, Linux is includeded, by way of SplashBox's ExpressGate quick-start mini OS, which gives you access to the net after 12 seconds or so.
Available shortly, the Eee Top 1602 will cost £449.
Asus Eee Box desktop PC review
COMMENTS
@Tim
You're right, it is 'draft 802.11n', but since the spec's as stable as it's ever likely to get, while it may not be an official standard, it is a de facto one. Even the Wi-Fi Alliance is certifying products for interoperability on the basis of 802.11n Draft 2.0 compatibility, and if it's good enough for them, it's good enough for us.
802.11n Draft 2.0 = 802.11n
802.11n, or a draft form of 802.11n?
I really can't stand the number of devices claiming 802.11n support. It's still in draft form. Therefore it doesn't yet exist to be included.
It'd be like me proposing to a woman, then immediately referring to her as my wife, even before she's said yes, let alone gone through with a wedding.
One another less pedantic front, I'm not interested until it comes with Linux. Even then though, I'd probably wait for the EeeTV they were mentioning a while back.