Sarah Palin's words get data mined
Whoah, there's data here? Business analysis gets to work on VP transcripts
The exercise was performed using Microsoft's BI tools by a Microsoft employee at Redmond and the results were kindly made available to The Register. The transcripts are freely available and many of you have access to analysis tools, so why not have a go?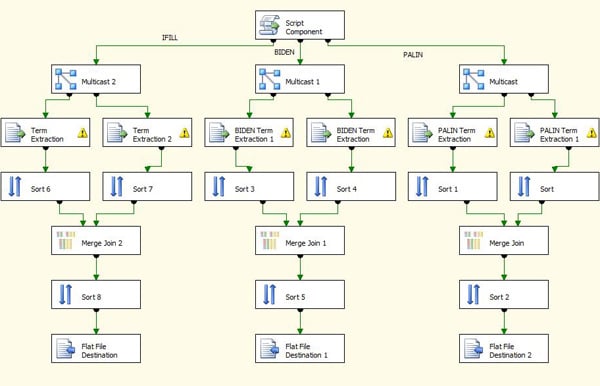 The transcripts were passed through a process that not only counts the number of times that a word is used but also assigns a 'tf-idf' weighting (term frequency–inverse document frequency) which gives some indication of the importance of the words in the document.
The (totally and absolutely not scientific) results are fascinating. Top of the list of the early Palin transcript is the term "good guy" with "bad guy" in 26th position. In the later debate she doesn't use these terms at all. In the interests of fairness it is worth pointing out that Joe Biden (the opposition Vice Presidential candidate) uses the term "bad guy" once in the debate, so perhaps he needs some coaching too.
If we try to look for warm fuzzy patriotic words and compare their position in the early interview and then in the later debate, we find:
| Word | Interview | Debate |
| --- | --- | --- |
| Good guy | 1 | Never appears |
| Alaska | 13 | 40 |
| Freedom | 15 | 80 |
| Democratic value | 16 | Never appears |
| Face | 22 | 170 |
| Bad Guy | 26 | Never appears |
Now suppose we look for words that might be considered to be more presidential – words which give the impression of a potential world leader:
| Word | Interview | Debate |
| --- | --- | --- |
| Afghanistan | 125 | 2 |
| People | 40 | 4 |
| Economy | Never appears | 8 |
| Iraq | 29 | 9 |
| Job | 144 | 12 |
| Tax | Never appears | 13 |
| War | 68 | 17 |
| Government | 166 | 21 |
| Nation | Never appears | 25 |
So have we proved our premise? Given that we have already hammered home the lack of science here, we leave it to you, gentle reader, to decide if there is enough 'evidence' here.
Of course, if we were being fair, we would (as the original analysis did) take a look at the comparable Joe Biden transcripts. But we aren't trying to be fair or unfair. We aren't trying to score any particular political points; we are trying to show that BI techniques can be applied to any data, not just business data. Which brings us to you.
Do you feel that your pointy-haired boss magically changed his or her position on some policy?
Do you have access to the minutes of the meetings?
And access to BI tools?
If you can answer "yes" to these three questions, then what are you waiting for? Hurry to the BI bonanza and get mining.
However, although BI is broadly applicable, there are data sets to which it would be entirely inappropriate to apply these techniques - for example, the work of fine, upstanding journalists such as those employed at Vulture Central. For reasons that are too technical to go into here, this data is not amenable to analysis of this kind. Which is a shame, because we know that we are always consistent. ®
Sponsored: RAID: End of an era?