Group Test: Universal Remote Controls
Why take ten remotes into the living room?
Sony RM-VL600T

Sony's RM-VL600T is pre-programmed with the control codes needed to control a wide range of Sony's own TVs, DVD players and other devices, so it's the obvious choice for people that own lots of Sony kit – especially as you can now pick it up for less than £30. It can control eight different devices and also has a useful 'macro' option that allows you to assign a series of commands to a single button. So you could create a macro that turns on the TV, DVD and an amplifier all at once, and then route the DVD audio through the amp to give you the full home cinema experience.
There's also a brochure supplied with the RM-VL600T that contains codes for products from other manufacturers, and we were able to use this to very quickly set up our Samsung TV, Denon CD, and Sky+ box. Yet again, though, this universal remote control stumbled with our Pioneer Blu-Ray player. The option to send test signals to the Blu-Ray player in order to locate the control code didn't work, which meant that we had to painstakingly train the remote control by beaming signals to it from the player's original remote.
Reg Rating 70%
Price £30 Compare Prices
More Info Sony
OneForAll Energy Saver URC-8350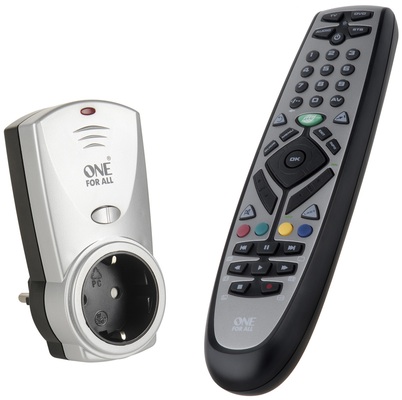 Most of us remember to put our TVs and other devices into standby mode to save power. However, even standby mode consumes a small amount of energy, so OneForAll's Energy Saver includes a special 'Power Plug' that lets you turn all your devices completely off at the mains. Just plug your devices into a multi-plug electrical strip, and then plug the strip into the Power Plug, and you can then turn the mains power supply to all your devices on or off simply by pressing the 'energy' button on the remote.
The remote control itself is a fairly basic model that can only control four devices, but that was just enough for our Samsung TV, Sky+ box, Denon CD player and Pioneer Blu-Ray player. Setting up the remote was easy for most of these devices, but the new Pioneer box caused problems. AllForOne's technical support people were very helpful - as you'd expect at 50p per minute for support calls - but we still had to tediously 'train' the Energy Saver one command at a time before it would control the Pioneer, so there's room for improving the process by which you update this remote control for new devices such as Blu-Ray players.
Reg Rating 75%
Price £35
More Info OneForAll
Next page:

Philips Prestigo SRU8015