The screen, while nothing out of the ordinary, is bright enough and copes better is direct sunlight than some Windows phones we've seen of late. Crank the text size up to maximum and, all told, it does a fine job of telling you what's going on.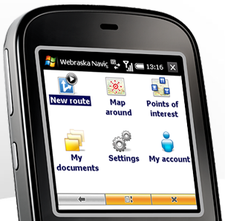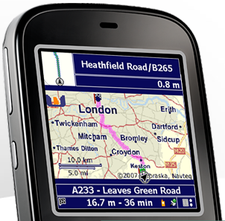 Webraska satnav bunded... but only a 14-day trial
When on standby, the screen shows the date and time with the backlight disabled. The idea is that you can quickly check the time without having to activate the display - thus keeping the battery-sapping backlight on as little as possible. But, in practice, the contrast of the black on grey display is so low as to make the numbers virtually illegible.
Palm has not graced the Treo Pro with a third-party Windows party frock such as HTC's TouchFlo3D, and while this means the resultant UI is rather plain and basic, it's also quick and responsive, and never seems to tax the 400MHz processor or the 128MB of RAM it has to play about in.
Our test handset came with a 14-day free trail Webraska, a GPS navigation application, though we understand that handsets from Vodafone will ship with a Telmap Navigator trail. While the QuickGPS-assisted GPS system worked swiftly and reliably, and the speaker was more than loud enough, the screen size was rather a limiting factor when it came to using the Pro as a satnav. And you'll have to cough up £4.67 a month if you want to carry on using Webraska when the trial period ends.
Best stick to Google Maps, which comes pre-loaded.
Wireless communication is taken care of with quad-band GSM/GPRS/Edge, tri-band UMTS 3G with 3.6Mbps HSDPA, plus 802.11 b/g Wi-Fi and stereo Bluetooth.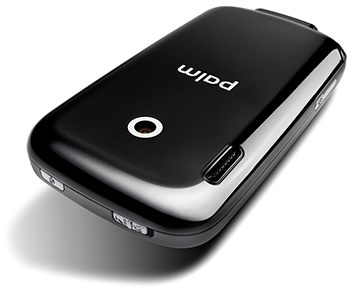 There's a basic 2Mp camera on the back
Built in memory goes no further than 256MB, of which 100MB is available for storage. Luckily, Palm has included a Micro SDHC card slot good for up to 32GB of expansion. Palm is the first handset maker we've come across that actually states support for cards up to 32GB. Access to the card slot necessitates removing the battery cover, but not the actual battery.
COMMENTS
Got mine this week - but this review is wrong
...but the wife won't let me use it until Xmas. Meanwhile I'm still on my WM6 Pro 750v which IS a touchscreen device contrary to the opening paragraph in this review.
Another error is that you don't have to hold down option to type numbers or symbols. Just press once and then the next characters is a number/symbol. Press Option twice and it locks. Same with the Shift.
The phone is already out on Vodafone under the business section or upgrades. Got mine for £99 on a 18 month £16 a month contract. Or the wife's contract rather hence no serious playing with the thing until Xmas.
3g or not 3g
"Palm hasn't given the Pro a forward facing video camera though in the real world this is hardly a major oversight. Does anyone ever actually make 3G video calls?"
Apparently you need that for video conferencing, as mentioned in the Reg review of the iphone 3G:
"And despite the 3G upgrade, there's no front-facing camera for video conferencing."
Mines the one with the Jesus phone in the pocket, I swear you can see the virgin Mary weeping in the default wallpaper.
Looks Good...
....Certainly from reading that it seems as though it would be a far better handset than the Touch Diamonds we have in the office.
If i didn't have a Jesus Phone, i'd be quite tempted by that!