Palm Treo Pro Windows Mobile smartphone
Unusual... but far from unusable
The keyboard itself is just a little on the small side. More than usable if your fingers are delicate and elfin, but perhaps less so for those with larger hands or pudgier fingers. This isn't too much of an issue when dialling a call as that can also be done using the touchscreen keypad, but the Pro lacks the on-screen bespoke alphabetical keypads found on the likes of the HTC Diamond and Samsung Omnia, rather making do with just a graphically smartened up version of the traditional Windows Mobile virtual keyboard. On a screen the size of the Pro's, using the virtual keyboard, even with the stylus, is a little challenging.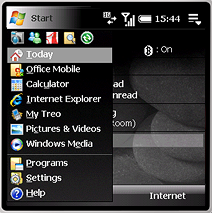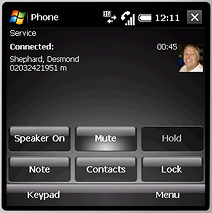 A largely unadorned Windows Mobile UI
Typing a sequence of numbers when not in phone mode involves holding down the Option key on the right-hand side of the keyboard while simultaneously hitting the number keys nested within the Qwerty array. Again, this is a little tricky for the large of digit or less dexterous.
That being said, nobody in the office who tried the Pro had any real issues, most being able to type quickly and accurately and all agreeing that the symbol menu that launches when you touch the Alt key is a major boon, allowing instant access to all your %s, £s, >s and &s.
The central navpad is a fine bit of design and worthy of note, making for smooth movement and easy selection while it can also be set pulse with an ethereal white light when you get voice mail. The surrounding keys are also very well spaced and weighted, making the Pro hard to fault on an ergonomic level.
The alert among you will doubtless already have noticed that the presence of the touchscreen and the usual non-touchscreen device control keys means that a lot of the Treo Pro's functions can be accessed at least one of two ways. Want to launch the Start menu? Hit the Windows Start key or tap Start at the top the screen, the choice is yours.
In practice, we quickly found ourselves using a combination of methods to navigate about the Pro, often tapping the screen to enter an application then using the navigation key to move around or select a menu function.
Sponsored: Minds Mastering Machines - Call for papers now open