Palm Treo Pro Windows Mobile smartphone
Unusual... but far from unusable
Review The Good Book isn't big on things that are half one thing and half another, so the new Palm Treo Pro, which is both a run-of-the-mill Qwerty-keyboard equipped smartphone and a touchscreen handset, may be onto a sticky wicket. Like the man said: "Because thou art lukewarm, and neither hot nor cold, I will spit thee out."
The Treo Pro isn't Palm's first Windows Mobile handset - both the Treo 500v and 750v being powered by Standard – ie. non-touchscreen - versions of the Microsoft OS, but it is the first to use 6.1 Pro.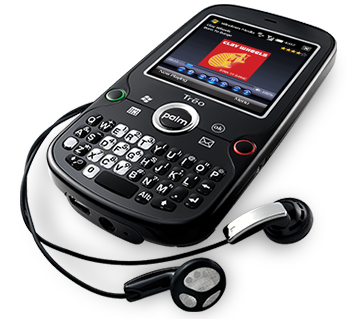 Palm's Treo Pro: handsome rather than pretty
In looks, the Pro rather resembles the Palm Centro, or rather a Centro that's been on a serious diet. At 114 x 60 x 13.5mm in size and weighing 133g, the Pro is a solid and decently sized device that sits well in the hand and is thin enough to be pocketed with ease. It looks the part to, handsome rather than pretty, and coming in any colour you want so long as it's obsidian black.
Externally, the Pro follows the usual Palm rule book, the face being dominated by the 2.5in, 320 x 320 screen and said Qwerty keyboard. Sandwiched in between are the start/end call keys; buttons to launch the Start menu, the calender and the messaging applications; an OK/back key; and a five-way navpad.
Running around the periphery, we see the Pro sports a Micro USB slot, 3.5mm earphones socket and stylus at the bottom; Wi-Fi on/off switch and IR port on the right side; a camera button on the left; and up top an on/off switch and a slider to turn the ringer on or off. We found this last rather handy - there's no mucking about with menus when turning the handset to silent in cinemas, churches and the like.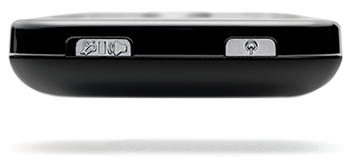 Handy ringer switch on top
With all those buttons inadvertent activation could have been a problem but Palm has taken care of things in a thoughtful manner: just touch the power button or the end-call key and the keypad locks itself. Touch either of the call keys or the power button and then the navigation key and it springs back to life. Nice and simple.
Sponsored: Minds Mastering Machines - Call for papers now open