Eee PC line to gain gamer-friendly graphics chip
Why, oh why?
Asus has let slip that it's working on an Eee PC netbook with a discrete graphics chip for all you gamers who want to play the latest titles on the move without having to lug a 15in Alienware around.
That, apparently, is what a company spokesman said recently, bizarre as it may seem.
Details are scarce, so it's impossible to say whether the company's considering an 8.9in model or a 10in machine. The latter seems more likely, not for the screen size per se but because it'll need the bigger chassis space for the extra cooling a half-decent discrete GPU is going to require.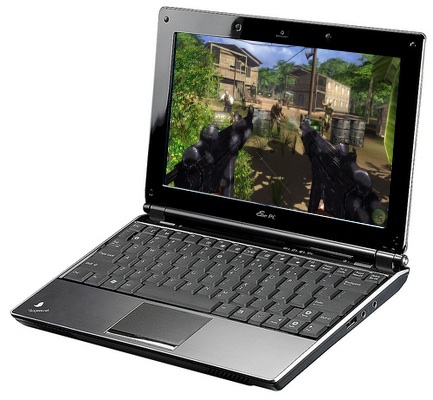 Asus Eee PC 1002HA: really better for games than a 15in laptop?
We're not entirely sure we see the point. Larger Small, Cheap Computers are already criticised for being worse value than a cheap 15in notebook, and adding a powerful GPU is only going to make that worse.
The only advantage the machine would offer the gamer is weight - and that's offset by the smaller screen, weaker CPU and probably lesser battery life, when compared to a typical low-cost 15-incher.
What such a plan - if it ever comes to fruition - reveals is Asus' desperation to try absolutely any scheme to try and sell more Eees. Fair enough, of course, not least because the SCC family has provided the Taiwanese manufacturer with its first real mainstream success, which is also improving the perception of the broader Asus brand in the West.
The risk is that such a strategy dilutes what the Eee brand is all about, something not helped by the vast array of different models the company currently offers. One more, this time with a discrete GPU, will not make much difference to that, we suppose.
COMMENTS
er, haven't they already done this...
..that'd be the N10. Atom processor, 10-inch screen, Netbook resolution, nVidia dedicated GPU..
Seems a little bizarre, but what is worth considering is that the GPU doesn't need to be that powerful - as you'll only be running games at the lowest possible resolution.
Nothing new really though
Raw physical force
Is the spokesman particularly weedy? I am no Arnie but can say my 15 incher (laptop) does not put any massive strain on my arms or back. Apart from professional gamers who need to hop from port to port (in the maritime sense of the word) I fail to see much use. Oh, and the poor warcrack addicts who are physically unable to tear themselves away from their pitiful half-lives of jumping between hotspot and hotspot in a mad rush to try to complete whatever mindless job keeps them in overpirced magic amulets and runed swords (or whatever).