3M unrolls power-saving laptop screen sheet
Better brightness for better battery life
Want to cut the power consumption of your laptop's display? Post-it purveyor 3M has a sheet of film which, it claims, will do just that.
The Vikuiti Brightness Enhancement Film - Reflective Polarizer (BEF-RP) allows a laptop's backlight brightness to be reduced without sacrificing the light coming out of the screen. The film is optical configured to steer as much light as possible in the direction of the viewer.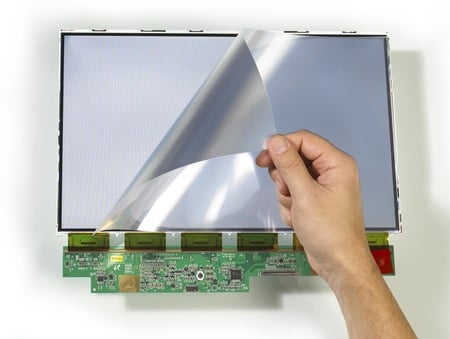 3M's Brightness Enhancement Film - Reflective Polarizer
3M claimed the sheet can increase a display's brightness by 44 per cent, allowing the backlight to be dimmed by a similar degree without darkening the display. That, it said, is enough to extend a notebook's battery life by around a quarter of an hour.
Alas, you can't just pick one of these sheets up and slap it down on your display - the film has to be built into the screen assembly.
3M also showed off a similar film that pulls off a similar trick for LCD TVs, knocking 37 per cent off a typical telly's overall power consumption, it claimed, "without sacrificing image quality".
Sponsored: Minds Mastering Machines - Call for papers now open