IT credit crunch comes home to roost
Tech lease defaults on the rise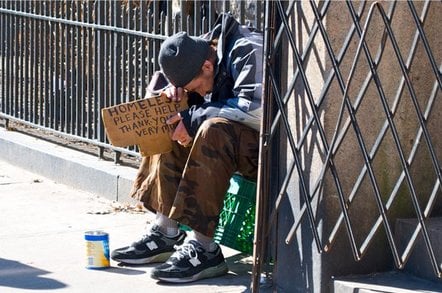 The weakening global economy and the tightening of credit for both companies and consumers is making it tougher for IT vendors to rely on a common tool - equipment leasing - to grease wheels and get sales. Defaults on tech leases - and indeed all kinds of capital equipment leases - are on the rise in the United States, and IT makers are starting to feel the pinch at both ends as some deals go south and it gets harder to make new deals.
When IT juggernaut IBM reported its financial results for the third quarter of 2008, the company's chief financial officer, Mark Loughridge, spent a lot more time than usual going over the relatively tiny Global Financing business. The reasons is that IBM is, whether you know it or not, one of the largest banks in the world, and it has a cost of borrowing that has been lower than that of a lot of banks - and particularly these days, when no one is sure what bank will go under next and therefore no one is sure who to loan money to.
IBM's Global Financing unit had $600m in revenues in the quarter, 2.5 per cent of IBM's overall $25.3bn in sales in Q3. This is a tiny part of the company, but nearly $350m of that Global Financing revenue drops to the middle line as pre-tax income, which is about 9 per cent of the $3.9bn in income that Big Blue booked in the quarter.
And while that money is nice, this is not the real purpose of Global Financing, which has $32.4bn in assets and $23.8bn in debt. The real purpose of the financing unit is to get the reseller channel and end users to finance the acquisition of equipment that IBM in turn gets to book as sales in each quarter.
So what does that portfolio of leases that comprise the debt look like? According to Loughridge, IBM has no exposure to consumers because it does not lend to consumers, and it has no exposure to the mortgage market, either. Moreover, IBM has not in any way securitized its receivables and says further that 97 per cent of the Global Financing portfolio is related to IT financing. (IBM finances any IT hard and soft wares as well as services, and not just its own stuff, either).
According to Loughridge, 60 per cent of the portfolio is at "investment grade," with 33 per cent rated at Aaa through A3 and 27 per cent rated at Baa1 through Baa3. The remaining 40 per cent is not investment grade, but 21 per cent is at the Ba1 through Ba2 level, which is at least close.
Any change in regional or global credit has a big effect on IBM because the company's customer base - mostly midrange and enterprise-class companies, but also a fairly large number of small businesses - often relies on credit: Sometimes directly, through their own purchases, and sometimes indirectly, through reseller channel financing that allows their resellers to get iron that they in turn sell.
The recent changes in the credit markets have caused IBM to shift its identified loss rates on financing from 1.1 per cent in the third quarter of 2007 to 1.3 per cent in the third quarter of 2008, and IBM also boosted its anticipated loss rate from 0.3 per cent a year ago to 0.5 per cent now. This is not a huge jump in terms of percentages, but the numbers are moving in the wrong direction, and IBM has therefore had to boost its reserve coverage to 1.8 per cent.
IBM wants everyone to know it has the situation under control. "We we closely monitor the credit of our clients, and adjust as needed," explained Loughridge. "It's important to remember that the majority of the assets we are talking about are in support of critical IT operations and have substantial value. Our leases are non-cancelable and we are financially protected in the event of a merger or acquisition.
"The assets we finance are critical to major financial institutions. In the event of bankruptcy, leases are often reaffirmed by the bankruptcy courts sustaining our expected lease payments. If necessary, the financed assets can be recovered and resold through our highly refined marketing operations, which extract significant value in the event we have to repossess the equipment. So we have the ability to manage our risks."
Sponsored: Minds Mastering Machines - Call for papers now open