WD Caviar Black 1TB vs Seagate Barracuda 7200.11 1.5TB
High-capacity hard drive shoot-out
The figures suggest that the majority of the models use platters with a capacity of 320GB or 333GB, while the 750GB and 1.5TB models have a higher areal density of 375GB. This is reflected in the price of the drives as the 500GB, 640GB and 1TB models cost 8-8.4p/GB, while the mighty 1.5TB model works out to 9.3p/GB. It's the 750GB drive which spoils things, as it sells for the same price as the 1TB model and that raises the unit price to 10.9p/GB.
PCMark05 Results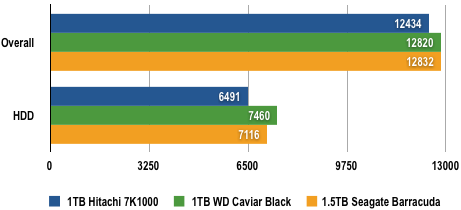 Longer bars are better
Why all the talk about platter size and areal density? It affects the price of course, and also results in that huge 1.5TB headline capacity but the fact of the matter is that the areal density is the only noteworthy feature of the 7200.11 Barracuda. Well, almost.
Honestly, it looks as dull as ditchwater and merely supports the usual set of 3Gb/s SATA features but we don't care about any of that as the performance is absolutely stupendous.
HDTach 3.0.1.0 Results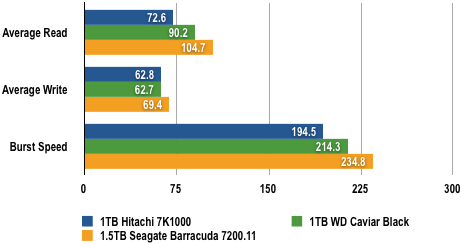 Speeds in megabytes per second
Longer bars are better

Time in milliseconds
Shorter bars are better
The WD Caviar Black impressed us in HD Tach but the Barracuda 7200.11 delivered Read, Write and Burst speeds that are so fast that they almost match the WD VelociRaptor. The time taken to transfer 2GB of test files from one drive to another seems to be limited by the speed of the second drive working in conjunction with the Barracuda. Transferring files from one part of the Barracuda to another adds a whole new meaning to the word 'brisk'.
Despite this prodigious performance, the Seagate ticks away quietly when it is working hard, although it doesn't quite match the whisper-quiet Hitachi 7K1000.
Verdict
The Barracuda 7200.11 has an enormous capacity, is very fast, has a modest price and operates quietly. It's clear that SSDs will replace hard drives in time, but with drives like the 1.4TB Barracuda around, that still lies some way in the future.
Sponsored: Minds Mastering Machines - Call for papers now open

WD Caviar Black 1TB vs Seagate Barracuda 7200.11 1.5TB
Pricey and noisy, but a fine desktop hard drive nonetheless.

WD Caviar Black 1TB vs Seagate Barracuda 7200.11 1.5TB
Quiet, cheap, very fast and ridiculously capacious - what more do you need?