WD Caviar Black 1TB vs Seagate Barracuda 7200.11 1.5TB
High-capacity hard drive shoot-out
The main points of interest are those VelociRaptor features. In particular, there are dual processors to handle the data flow, and a technology that WD calls "StableTrac" which supports the motor shaft at both ends to reduce vibration and thus help the read/write heads to do their jobs better. The third feature is "NoTouch" ramp-loading technology, which ensures that the heads never touch the platters, increasing reliability. WD clearly has faith in all this as it offers a five-year warranty on the Caviar Black, just as it does with Raptor and VelociRaptor, while Caviar Blue and Green come with a shorter three-year warranty.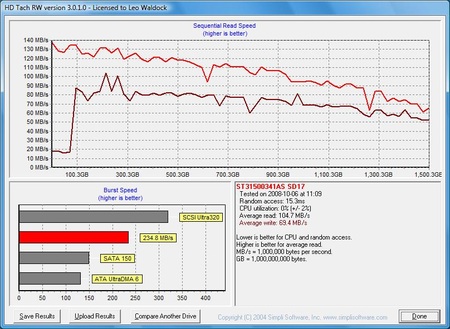 Click for full-size image
In our testing, the Caviar Black performed impressively and beat our reference Hitachi 7K1000 by a handy margin in every test, although the Hitachi is surprisingly speedy when it comes to loading Windows. The specification claims a typical noise level of 29dBA which suggests that the Caviar Black should be quieter than the Hitachi, which has a noise rating of 32dBA, but that wasn't how it sounded to our ears. When the WD is working hard, it ticks away in a similar fashion to the Raptor family and is relatively noisy under load.
This just goes to show that the specification doesn't necessarily give the full picture.
Ordinarily, we'd sign off this review with a 'Buy' recommendation, provided you can stand the price and noise, but we've got something special in the shape of a 1.5TB Seagate that should grab your attention. It's the most capacious member of the Barracuda 7200.11 family, sporting an enormous 1.5TB capacity. That's 1500 metric gigabytes or, to put it another way, this is a hard drive that is so colossal that you appear to lose more than 100GB when the drive is formatted by Windows. The reported capacity is 1,397GB.
This enormous capacity is achieved with four platters and eight heads, and an impressive areal density of 375GB per platter.
The family of Barracuda 7200.11 drives covers a multitude of configurations and starts with a model that is a tiny 160GB in size. It's presumably based on a single-sided platter and a single head. It has 8MB of cache. The 320GB model would have a double-sided platter and we suppose that the 500GB, 640GB and 750GB drives are built around two platters. The 1TB drive is doubtless a triple-platter drive, and the king of the heap is the four-platter 1.5TB boy. There's a bit of a song and dance about the amount of cache on each model as the middle rankers can have either 16MB or 32MB of cache, while the two big boys definitely, absolutely have 32MB.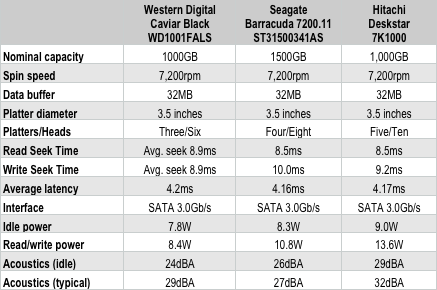 Sponsored: Minds Mastering Machines - Call for papers now open