The netbook newbie's guide to Linux
One small step for Man...
Firstly, let's see if the package we need is out there, and find out what it's called. So we run:
sudo yum list | grep man
This feeds the whole of the available software list through the grep filter looking for the three character string "man". You can look up grep once you have the man pages installed. You'll get a lot of results from the commads you just keyed in but among them you should find lines like the following:

To interpret: man.i386 is the executable, designed for Intel's architecture, and the other available packages are the accompanying text files - no-arch because as essentially only text files they're tied to no particular architecture - in the various languages. If you're comfortable with English you'll probably now want to do the following:
sudo yum install man-pages-uk
Installation is a two-stage process. First, yum shows you what it's about to install, and tells you what size it is. At this point, you can respond with a 'Y' to proceed or an 'N' to abort.
This is followed by:
sudo yum install man
which will install the executable that allows you to view the manual files.
Office Work
If Microsoft Word is your only experience of wordprocessing, you're going to have to say goodbye to it when you pick up your Linux netbook. Likewise Excel. But all the SCCs I've seen come with Open Office, a free software equivalent that for the most part, I'm told, is every bit as good. I don't use either of these: for the past three years Google Docs - or its earlier manifestation, Writely.com - has been my office suite standby.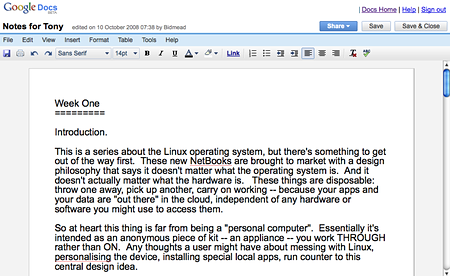 As a netbook user, Google Docs should probably be your word processor of choice too. It's a Cloud application, and it also maintains your data out on the net, and this is how netbooks are meant to work. Not only that, thanks to its sophisticated revisioning system Google Docs will store every version of every document you've written. So if I want to go back to the full-length version of a 1000-word article I wrote three years ago and eventually submitted as only 700 words, it's a snip to find it, compare it to the original, and pick out the 300 words that make up the difference.
My suggestion would be to start using Google Docs as your netbook's main wordprocessor straight away. Two snags may strike you: the CIA are reading everything you write; and it won't work if you're not online.
There's not much to be done about the first objection, but the second one is easily fixed. I'll be talking about Google Gears later on in the series.
Sponsored: Minds Mastering Machines - Call for papers now open