The lid is particularly so, as we mentioned earlier. The bezel - which contains a 1.3-megapixel webcam - angles out from the display panel, so the lid is a full 10mm thick at the edge. The lid's surface angles out from the front to the back, adding a further 5mm to the lid's overall thickness.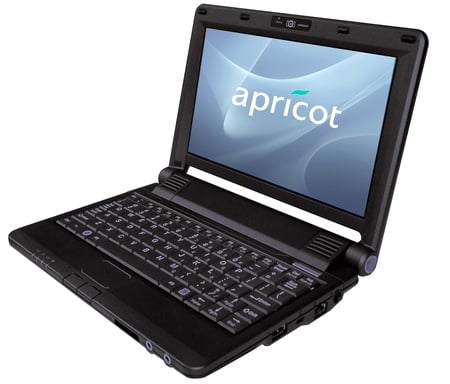 Chunky looks
Judging by the weight of the assembly, it's mostly air in there, but there's no question it conveys a sense of rigidity.
So does the keyboard half, which is raised steeply at the back to form a home for the Pro's two speakers and the screen hinge. Much of this back section is the Pro's 2200mAh battery.
The Pro's keyboard sits (almost) flush with the wrist-rest area. The keys are small, about the same size as the ones on the 8.9in Eee PC 900. There's a little flex to it, but it has the same rattly feel as the Eee's board, though we'd say the Pro's is definitely the better of the two. Like the Eee keyboard, we found this one a touch too cramped for comfortable touch-typing. Apricot describes it as "generous", but we disagree.
Like the original Eee, the Pro has a very small trackpad - it's just 33 x 21mm - but it's been crafted as part of the wrist-rest area so there's no edge around it. This, surprisingly, makes it much more usable since it eliminates the sense of restriction you get with small, edged trackpads. The two buttons are position in front of the pad and are likewise formed from the body of the laptop.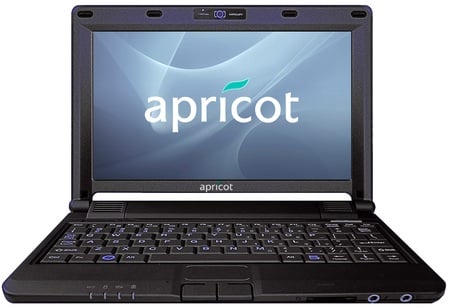 The trackpad's integrated into the wrist-rest
The front of the Pro is home to the four-in-one memory card reader and 3.5mm audio sockets. Round on the left side are the aforementioned air vent, one of two USB 2.0 ports and the laptop's VGA connector. The second USB port is one the right side, next to a Kensington lock slot, 10/100Mb/s Ethernet port and the power socket.
COMMENTS
Hardware choices
Do you folks (hardware reviewers/pundits) regard devices like the Nokia N810 in the same class as these devices?
It's a great deal lighter (which to me seems like a huge advantage in the market for smaller-than-a-macbook devices), and I expect an important reason is that the ARM processor means it can get away with a much smaller battery. I'd love to see some comparative reviews of devices in this class, to see whether I'm losing anything that matters by choosing an ARM-based device, or whether it's a no-brainer.