Apricot Picobook Pro netbook
Intel Atom? Pah! VIA's C7-M makes good
The right side is home to one of the Pro's stand-out features: an ExpressCard 34 slot. This seemed a big plus point, but then we wondered how likely it is that the average SCC buyer is going to need it. ExpressCard is the successor to the old PC Card - aka PCMCIA - slot. Time was when Ethernet, modem and, later, Wi-Fi connectivity were the sole province of add-in cards. Now they're all built-in, leaving today's add in cards an eclectic selection of niche products.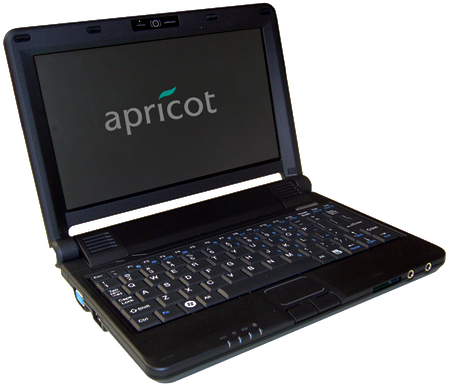 Standard Small, Cheap Computer portage
The Pro has Bluetooth on board, so you won't need a USB slot or ExpressCard for that, and its Wi-Fi connection has support for the 5GHz band and 802.11a, always a favourite of corporate wireless network implementors. Again, this may appeal to businesses, as will the C7-M processor's on-board security module, which accelerates the encryption calculations needed by VPN links.
We can't say whether it makes a practical difference, not having a VPN line into a monster corporate server handy. From a benchmarks perspective, however, the Pro's nothing to write home about. PCMark05 shows a the 1.2GHz C7-M to be the weakest netbook CPU we've tested, and the memory and hard drive scores are likewise well below many other SCCs' results.
PCMark05 Results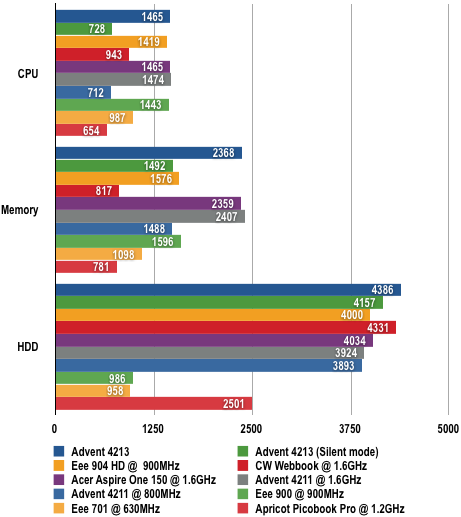 Longer bars are better
Don't read too much into that, however, because it's not so very far below Atom-based machines set to run at half speed - clock frequencies aren't comparable across different processor makers' products - though those netbooks have the advantage of HyperThreading to make the CPU seem almost dual-core. The C7-M is a single-core part, pure and simple.
Sponsored: Minds Mastering Machines - Call for papers now open